Press Cuttings
Min-X Team Press Cuttings
Throughout the year, the Bolddog Lings Mini-X Team feature very strongly in the press, from local papers to National features.
Sky is the limit for Eye Show
EDP Newspaper - 8th August 2008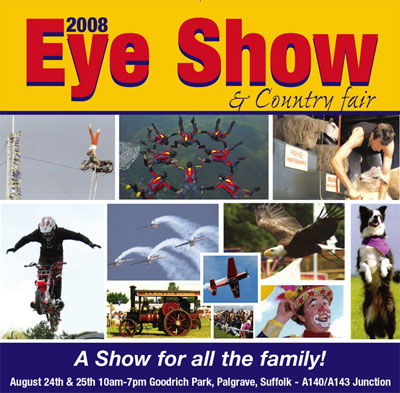 An array of daredevils riding mini motorbikes, skydiving and flying aerobatic planes are included in the line-up for this year's Eye Show & Country Fair.

The event takes place at Goodrich Park, Palgrave, near Eye, on August Bank Holiday Sunday and Monday and the programme of top performers includes a host of traditional attractions from gun dog displays, sheep dog demonstrations and horse riding to helicopter trips, military vehicles and funfairs.

Show director Tim Seeley said: "We always make sure that there are lots of varying attractions to be sure that the show appeals to all members of the family."

After an awe-inspiring display at last year's show, the Blades aerobatic display team are back to perform on Bank Holiday Monday. The Blades pilots are all former RAF Red Arrows and between them have more than 20 years of display experience on Harriers, Hawks, Jet Provosts and Boeing Stearman biplanes.

The four pilots flying their Extra 300 aircraft are led by Blade 1 Andy Offer. He said: "I always get a little nervous prior to any display, I believe these nerves are good as it focuses your mind to the job in hand."

Other main arena attractions include the London fire brigade parachute team, Bolddog Ling's mini bike display team, Jon Marshall blindfold driving, dog dancing with Richard Curtis, sheep racing and CJ's falconry display.

Another attraction not to miss is the sheep show. Visitors will learn about each breed and how wool from the sheep's back becomes a jumper to wear. The shearing demonstration is an entertainment in itself and is great fun for all involved.

For the first time an authentic French market will be offering continental delights such as cheeses, olives, charcuterie and patisserie, bread and pastries and strings of onions, shallots and garlic.

There will be action all around the showground with displays including Western riding, vintage cars and tree climbing. Activities include off-road driving and military vehicle rides. There will be goodies to buy at the craft fair and shopping parades as well as lots of food, drink and music.

The showground is on the A143 close to Diss and the event starts at 10am. Admission is £9 for adults and £4.50 for children. A family ticket costs £25 (2 adults and 3 children). Parking is free. Visit www.eyeshow.org.uk.
Daredevils to rescue of Eye Show
Diss Mercury - 14th August 2008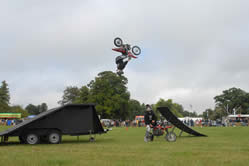 A team of daredevils has been drafted in to the Eye Show and Country Fair following the dramatic withdrawal of one of the star attractions.

The Bolddog Lings Minibike Display Team from Harleston will be performing in the main arena on August 24 and 25 in place of German highwire acrobat Jean Monti.

Last week, show director Tim Seeley received a call from Mr Monti from a hospital in Germany explaining he had suffered a back injury caused by his performances at the top of a 185ft swaying pole.

"Herr Monti was very apologetic. He has been performing this extraordinary act all around Europe for several years and this has caused serious wear and tear on his spine that will keep him in hospital for several weeks. However, we are thrilled that the Bolddog Lings team have been able to step in at short notice - they always put on a terrific show," said Mr Seeley.

The minibike team is a scaled-down version of its bigger brother the Bolddog Lings Freestyle Team, and the riders perform the same airborne tricks.

There is a good chance that show-goers will see Arran Powley, the UK's top minibike freestyle rider, performing back-flip variations with a trick thrown in while he's upside down. The display also involves a minibike race and freestyle trick competition, and people can meet all the riders on their interactive stand and get up close to their machines and stunt equipment.

This show also features the Blades aerobatic team of ex-Red Arrows pilots, freefall parachutists, blindfold driving, dog dancing and a host of family attractions at the Goodrich Park showground in Palgrave, near Diss.