What is Bolddog?

Bolddog action sports is made up of the following departments:
Freestyle Motocross (FMX) Team
Mini Bike Team - The Mini-X Tour
Stunt Work for Film & TV
Online Store for Extreme Sports Products
Welcome to Bolddog!
We have our own Motorcycle Display Teams sponsored by Lings Motorcycles, including our Freestyle Motocross (FMX) Team, Mini-X Tour and our Street Bike Freestyle Team.
The Display Team was officially launched in 1995 as the Lings Motocross Display Team, and following that, the Bolddog Action Sports Company was launched in July 2002.
In addition to all this, Bolddog have their own online store for extreme sports casual clothing & products and Bolddog's own clothing label.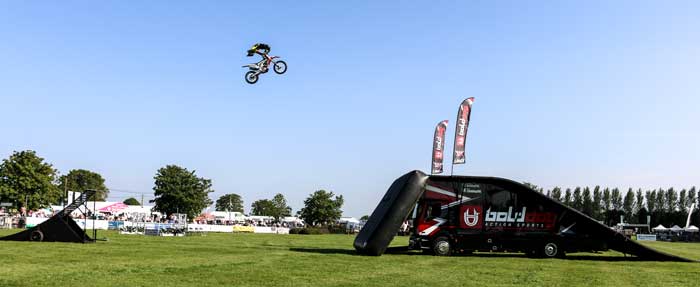 Our Departments:
Bolddog Lings Freestyle Motocross Display Team:
HONDA'S OFFICIAL AND THE UK'S NUMBER 1 FREESTYLE MOTOCROSS DISPLAY TEAM
Based on the latest extreme sports action including freestyle motocross and motorcycle back flips. The Bolddog team travel the UK and Europe performing at County shows, Carnivals and motor sports events. The team is managed by one of Europe's top freestyle motocross riders, Dan Whitby, the first person to flip a four stroke motorcycle in Europe!
With he largest most sophisticated FMX landing ramp ever seen anywhere in the world (described as the best ramp in the world by many UK and US riders). The Ramp enables riders to jump gaps over 75ft and perform tricks which involve the rider leaving the seat in mid air. The show features a wide selection of freestyle motocross tricks such as the 'superman seat grab', 'Indian air', 'heel-clicker', 'rock solid', 'double-nac', 'switch blade', 'kiss of death', 'lazy boy' and many more.
If you are a show organizer and would like to enquire about booking the team please contact Dan:
Telephone: 07879 066312
Or email: dan@bolddog.com
Bolddog Lings Mini-bike Team - The Mini-X Tour
This is the little brother to the Bolddog Lings Freestyle Motocross Team. A very similar motorcycle display, but on a smaller scale, including all the latest FMX tricks including back flips!!
Film & TV Work
Bolddog Online Store
Stockist's of Bolddog