FMX CHAMPIONSHIP
In addition to performing at other events across the UK and Europe, Bolddog have recently launched, the Bolddog FMX Championship - An invitational FMX Professional and Amateur FMX Series.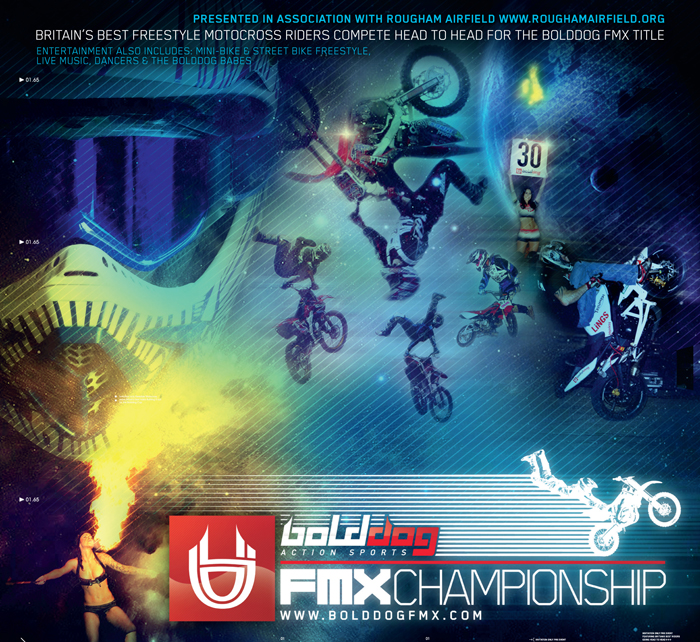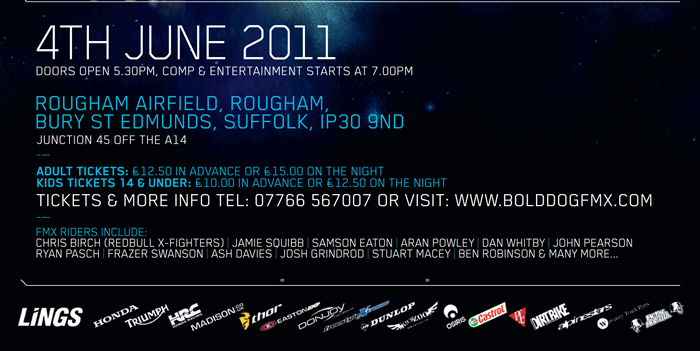 Bolddog FMX Championship Round Up 4th June 2011
Words by Mick Fenwick Photos by Julian Dann
On 4th June 2011, the UK took one step closer to its very own British Championship FMX series, with the first ever Bolddog FMX Championship, where Britain's top riders battled it out for the number one title.
We took our places on the stage, the riders entered the arena, welcoming the thousands of supporters, as local rock band L.A.F. jammed out some good ole rock n roll.
First up were the Amateurs, taking their chances in what can only be called windy conditions. For a beginners section the guys didn't disappoint at all, with Jon Ritchie taking 1st place, Stuart Macey 2nd and Ryan Powley 3rd. All the riders showing promise for the future, guts and determination performing to such a large crowd.
Next up the Pro qualifiers, seeing Britain's finest go head to head for a place in the final five. The athletes wowed the crowd with the greatest display of FMX skills we've seen in the UK since Battersea, let me tell you judging was hard.
The trick list was extensive, John Pearson giving the crowd the first backflip of the night, and Danny Veale pulling off a text book Shaolin.
But after an awkward crash scuppered Dan Whitby's chances after what in my opinion had been the most exciting run of the night, the final five gladiators were chosen - Danny Veale, Samson Eaton, Dave Wiggins, Jamie Squibb and Chris Birch (Redbull X-Fighters).
After entertainment from Hanksy and the street bike freestyle team, fire breathing dancers, and Samson Eaton grabbing the best whip contest, it was crunch time…
The final five, each had only four attempts to prove their worth, with a gap of 80ft and two ramps to choose from. But with the wind getting stronger by the moment this wouldn't be an easy task for any of them. Every rider meant business, the stakes were high and so was the standard of riding. This was what we were all waiting for, it was so close, Kiss of Deaths, Lazy boys, huge whips, the guys had them dialled.
But after a smooth and stylish run from Dave Wiggins, a ridiculously gymnastic show from Jamie Squibb, and a huge back flipping performance from Chris Birch our winners were crowned. Congratulations to: 1st Official UK number 1, Chris "Sir Swampy" Birch, 2nd Jamie Squibb and 3rd Dave Wiggins.
The Bolddog FMX Championship has set the bar for the UK scene, with its superb organisation, awesome riders, entertainment, and a crowd which has been reported of up to 5,000 fans, this can only be the first of many events to come.
Words by Mick Fenwick Photos by Julian Dann
FMX Championship Programme
The event will include:
The pit party, where the public are allowed into the pit area to meet the riders for photos and autographs etc.
Show opening ceremony – Intro of commentators, celebrity judges and riders
Amateur comp- Smaller ramp gaps. Riders 4 laps of course
Pro Qualifying - Ramps are opened up to 75ft position
Entertainment provided by UK's No 1 Street Bike rider and two younger riders interviewed as "Stars of tomorrow
Best FMX Trick - Each rider has 2 laps of course. Judged on crowd applause (clapometer)
Best FMX Whip Competition - Each rider has 2 laps of course. Judged on crowd applause (clapometer)
Pro Finals
FMX Trains - All riders ride the course one after the other wheel to wheel
Presentations
Closing ceremony
More news on venues and dates to follow soon................