News Archive
NEWS ARCHIVE 2015 - 2016
Merry Christmas 2016 From us all at The Bolddog Lings FMX Team!
FMX Team Update, Christmas 2016
Hi everyone, we hope you are all well and looking forward to the Christmas holidays! Please see below in Samson's own words what we have been up to so far this winter…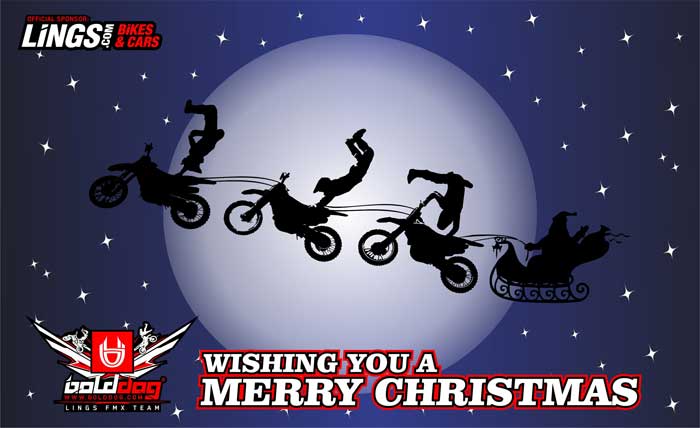 "So, when we last spoke we were getting geared up ready for one of the best shows of the year, Motorcycle Live at Birmingham's NEC. This is a nine day show with a one day rehearsal for us, it's indoors, it's warm, there's no wind or rain to deal with and we ride the two best mobile landing systems in the world, which of course belong to us! It's as close to 'riding heaven' as you can get! Don't get me wrong when you're a finely tuned athletic machine like myself (ha), ten days of riding to the best of our capabilities certainly takes its toll on the body, but you take a quick look outside and you soon realise if we weren't at the show performing, this time of year we wouldn't even be swinging our legs over the saddles at all!
Over the nine days of the show this year, myself, Dan and Ron performed in 25 shows, jumped over 525 times and hung out with thousands of people at the autograph sessions after each show. This all went off without a glitch and everyone was safe and sound at the end of the week.
Moving forward after the motorcycle show, there's lots going on still, Christmas obviously is the first thing, down / chill time, but also lots of preparation ready for 2017, which for us kicks off early and then we go straight into the 2017 Arenacross Tour…
So, to break it down we will be performing this New Year's Eve bringing 2017 in in style at the Liverpool International Horse Show, this is a three day show (31st Dec – 2nd Jan), in Liverpool's iconic Echo Arena. It's mainly based around horses and is a prestigious show jumping event for the best show jumpers in the world, but also this year they are throwing FMX into the mix, along with lights, lasers, pyros and fire breathers! We're looking forward to it very much!
Straight after the horse event, we head to round one of the 2017 Arenacross Tour which kicks off again in Manchester, this tour, back again for its fifth year will see us through every weekend until the end of February 2017.
You can keep up to date with what's going on via all our social media platforms, Facebook, Twitter and Instagram, simply just follow us by searching for @BolddogFMX.
But for now, we are going to sign off and leave you to it, we wish you all a very merry Christmas and a happy New Year! Thank you all so much for your ongoing support, without you all it truly wouldn't be possible to do what we do!
Cheers and we hope to see you all soon!"
Merry Christmas,
From us all at Bolddog Lings FMX Team
AX takeover at motorcycle live
PRESS RELEASE BY REDCAT NEWS SERVICE
November 30 2016.

The doors closed on the annual Motorcycle Live exhibition at the NEC, Birmingham last Sunday with over 113,000 visitors flocking through the door. This represented a significant overall increase in footfall over the 2015 edition of the show, and a lucky 42,000 of them were lucky enough to witness the Arenacross FMX Live taster shows for free.
AX host Christian Stevenson, aka DJ BBQ, awards Jamie Squibb best trick of the night.
The Tuesday of the show was something of an AX takeover with virtually the entire Pro class paddock turning out to sit alongside the FMX athletes (Jamie Squibb, Nez Parker, Steve Sommerfeld, Dan Whitby, Samson Eaton, Arran Powley), and take time out to meet fans and sign autographs. Once the daytime show was over, the doors reopened for the AX launch party where 2500 hardcore AX fans were invited to a free evening FMX show. They were the first in the UK to see the new Pro teams, together with few of their Pro Lite team-mates, and hear their thoughts on, and plans for the 2017 Tour.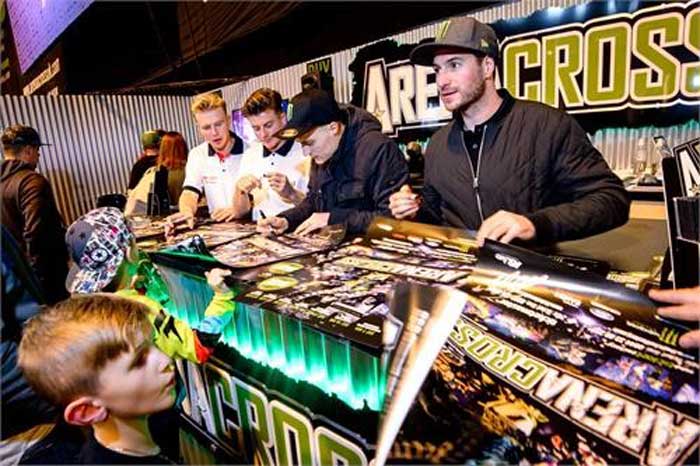 Team Green Kawasaki's reigning British MX Champ Tommy Searle, pictured with team-mate Jack Brunell together with Buildbase Honda's Chris and Matt Bayliss, took time out to meet fans and sign autographs prior to flying out to the States.
Reigning British MX champion Tommy Searle popped in prior to going out to the States for winter training, and the full Team Green AX line-up of Jack Brunell, Dylan Woodcock, Kacey Hird and Bobby Bruce were right with him. Popular Brit Kristian Whatley, who claimed three national motocross titles in 2013, and his Pro Lites stable-mate Ollie Osmaston were spotted in their new MVR-D Husqvarna livery, and the multi-international team of Cedric Soubeyras, Angello Pellegrini and George Clarke (Team RFX powered by St Blazey MX) rocked up to check out their new Suzukis.
Popular Brit Kristian Whatley, a former British MX Champ, appeared with his new Husqvarna team, and Pro Lite team-mate Ollie Osmaston, for the first time.
Three-time world and multi-British motocross champ Dave Thorpe unveiled not one, but two teams and he had a full complement of riders on hand including Fabien Izoird, Matt and Chris Bayliss (Buildbase Honda) and Florent Richier, Alex Snow together with 2016 Pro Lites champ Joe Clayton (Keystone Honda Racing). On the all-Brit front, Adam Chatfield jetted in to join Welsh brothers Ashley and Josh Greedy (FRO Systems PAR Racing).
The only team to remain unchanged for the 2017 AX Tour is the twice-winning one of SR75 World Suzuki and its French pilots Thomas Ramette and Cyrille Coulon. The double-champ and his team-mate were also at the launch and presented to the gathered audience.
The AX launch party was but a teaser for what is to come when the Tour gets underway at Manchester on 7th January next year and with such immense racing talent confirmed for the series, it would take a brave punter to predict the outcome - the books are well and truly open!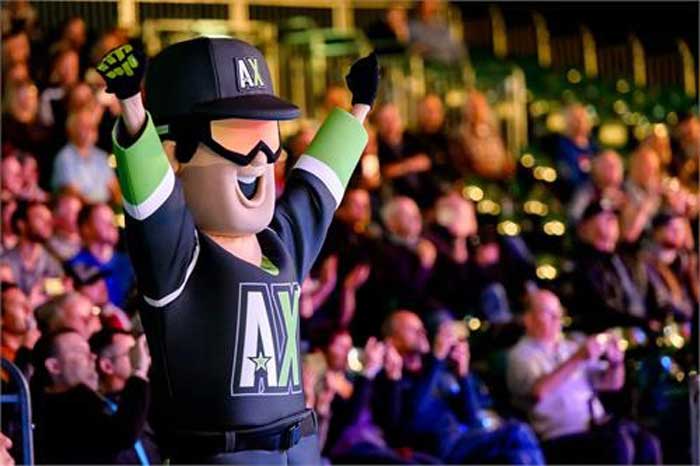 MAX, the new AX ascot, was an unexpected major hit at Motorcycle Live.
Tickets are on sale now from www.arenacrossuk.com and also via 24-hour ticket lines; Ticket Factory 0844 3388 222. Ticketmaster 0333 321 9999.
AX PRESENTS FMX LIVE AT MOTORCYCLE LIVE
PRESS RELEASE BY REDCAT NEWS SERVICE
November 16 2016.

FMX Live presented by Arenacross returns to Motorcycle Live at the NEC next week with a crammed programme of high-octane insanity performed by an entry of top-level talent, hand-picked by the team behind the AX Tour.
In keeping with the whole AX experience, the shows – all 24 of them – will be packed out with displays of FMX tricks, flips and whips. Headlined by the UK's best FMX legend, Jamie Squibb and leading Aussie Steve Sommerfeld, the riders will include former British MX championship contender Nez Parker and the only full-time FMX team, and Britain's Got Talent semi-finalists, Dan Whitby, Samson Eaton and Arran Powley, who together make up Bolddog Lings FMX.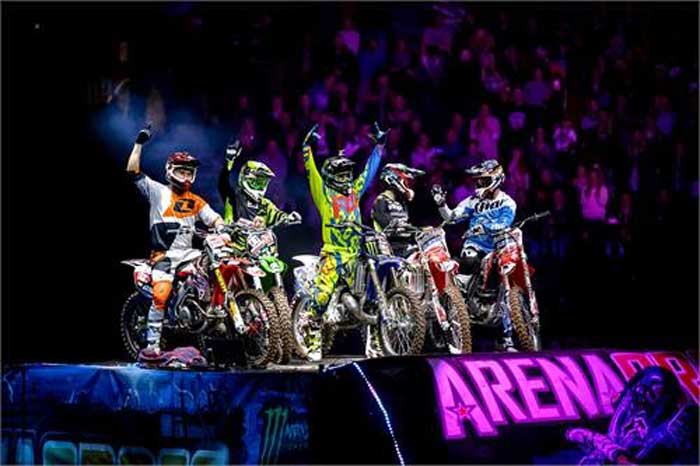 Motorcycle Live kicks off on Saturday 19th November and runs for ten days, right through to Sunday the 27th of November 2016. There'll be two shows per day during the week at 12 noon and 2pm with three shows across each of the two weekends; 11.30am, 2pm and 3.30pm.
Show-goers can expect to witness spectacular choreography set to the type of deep, intense and loud music AX is famed for, with eye-popping lights, lasers, LEDs and such like, thrown in for good measure.
The FMX Live Arena will be situated in Motorcycle Live's hall four and each show can accommodate 2,000 spectators. The difference this year is that the organiser of Motorcycle Live has taken the decision to include entry to the FMX show within the standard ticket price, in other words, it's free to everyone already inside the Motorcycle Live halls.
"Freestyle motocross is always an amazing experience at the highest level of live entertainment, and it never fails to deliver," explained FMX Live and AX organiser Matt Bates of ASLive. "We've worked with the team at Motorcycle Live for years in delivering many live experiences such as Ramp'd Up, Crank'd and the Behind Bars Cinema – but Freestyle Motocross is something that we are passionate about. Last year's FMX Live was incredible and I'm confident that this year's will be nothing short of explosive."
Adding his take on the larger-than-life element of the biggest motorcycle show in the UK, Motorcycle Live managing director Finlay McAllan said; "We're delighted to once again bring FMX Live to Motorcycle Live, and this time for no additional cost to visitors. Presented by Arenacross, the show will again be to the extremely high standards we saw last year. Giving show visitors free access to the show will allow us to demonstrate not only the riders' amazing skill and tricks, but also open up the show for many more people to experience this fantastic event."
The 2017 Arenacross Tour launch will coincide with Motorcycle Live and will take place on Tuesday the 22nd of November at the show itself. AX teams and riders such as Tommy Searle, Thomas Ramette, Adam Chatfield, Cedric Soubeyras, Matt Bayliss, Kristian Whatley, Angelo Pellegrini, and a host of Arenacross racers will be on hand to meet and greet fans. Previous AX advance ticket bookers have been invited to a free evening FMX performance, once the Motorcycle Live doors have closed, and there are plans for electric bike try-outs and AX-style entertainment in the Arenacross Bar & Grill area.
For Motorcycle Live information and to buy tickets, visit www.motorcyclelive.co.uk
For Arenacross, go to www.arenacrossuk.com
BOLDDOG LINGS FMX TEAM NEWS - summer season round up 2016
Hi Everyone, we hope you are all well and have enjoyed the Summer. In Samson's own words, please see below what we have been up to this Summer Show Season…
"We are now at the end of the 2016 Summer Show Season and what year it's been. When first looking at the date sheet at the beginning of the year, I didn't think it wasn't going to be that busy, but myself and Team Manager Dan Whitby have been doing this for 11 years at the end of this year, and I can honestly say this has probably been the best and busiest year yet!
Following from our last update, we had just finished the 2016 Arenacross Tour and I had had some surgery on my elbow. I was well into the recovery period, it was all going sweet and I got signed off by the docs to return to the saddle. Three days back into riding at our training facility in Norfolk I had a little mishap on part of our supercross section of the practice track. I fully knocked myself out for about three minutes and unfortunately re-opened the freshly healed scar on my elbow. For some really gory pics of it, check my Instagram account out @samsoneaton. Not the best start to the year for myself, I had to rest and heal up gain for another "month or so"... they said
So the season started off on the second weekend of May in Northern Ireland, I was still in stitches from my crash back home but thanks to the advice of a paramedic friend of mine and Dan and Arran's help strapping me up every day, I rode all three days of this show with my stitches still in! On the ferry home to the mainland I was due to have my stitches out, but with no paramedic or nurse in sight and being stuck in a cabin on the ferry for eight hours we had no choice but to let Whitby at it with a pair of nail clippers… It was a successful "procedure" and as I sit here now, looking a bit of a mess, my elbow has never felt so good!
Apart from a couple weekends we have been on the go right through 'til the end of September where we performed at a family fun day for British Aerospace in Hull. We have clocked up some serious mileage, but we have had a mega year once again.
Looking forward there are many more shows in the pipeline this year… We will also be back at this year's Motorcycle Live show at Birmingham's NEC from the 19th – 27th November where we will be performing every day in the FMX Live arena, also promoting the 2017 Arenacross tour. Come see us, hang out and grab a selfie… ha ha just joking. But seriously come say hello if you are at the event.
We have also had some mega news this year which I am personally proper chuffed about… Some of you will know the long battle that team manager Dan Whitby has had with learning to backflip his motocross bike, if you're unfamiliar with it then basically Dan used to flip many years ago up and down the country at shows everywhere. He then went through the phase of having some bad crashes and when he was learning to flip 21 meters (Generic FMX jump gap), he had a massive crash resulting in him tearing his ACL ligament in his right knee. He now cannot ride without the aid of his CTI custom knee braces! Next time you see him then ask him about the journey, quite a story believe you me! Anyway about a month ago, Dan overcame his inner demons and nailed his first flip over 21 metres to dirt at Bolddog HQ!!! He has now in the days since been perfecting this and you will see it at a show near you soon, if you come to the NEC then it will be sooner than you think!
But it doesn't end there!! Arran Powley, aka Ron has also taken the brave steps into conquering the 21 metre backflip to dirt! Ron's journey to accomplishing this feet isn't the same as Dan's but, after years of seeing Dan beat himself up through crashing and trying to learn, it has always seemed like a trick that was unachievable to Ron and myself. So Ron has also spat into the face of danger and has learnt this mega milestone in his FMX riding career!
I've tried to keep this update short for you, but with all the radness that has happened this year it's harder than you think. Anyway all of this madness has been captured on video, I have tagged all of our sponsors in on Instagram, I know some of you have already seen the videos. Please go check it out, it's well worth a watch believe me. All of it's on our official Instagram page, just search for @bolddogfmx.
Until the next time though, It's been a pleasure and we hope to see you all soon, peace, Eaton Out!"
From us all at Bolddog Lings FMX Team
BOLDDOG LINGS FMX TEAM NEWS SPRING 2016
Hi Everyone, we hope you are all looking forward to the Summer, we certainly are!!
In Samson's own words, here is review of what the Bolddog Lings FMX Team have been up to since Christmas…
"There has been so many things going on at the same time, it has been absolutely manic for us since just before Christmas! So the first job on list for us was building our brand new 2016 Lings Honda CRF450's ready for a year of freestyle radness – Gotta say a massive thank you to Lings, the bikes come straight out of the crates and are transformed into FMX steeds. We make all necessary adjustments required for the tricks even before the engines are fired up. We're talking a complete overhaul from plastics all the way down to the wheels. As you can imagine this isn't a five minute job and with three of the bikes to completely change it takes roughly a week to get everything put on, set up and ready to roll. This week just so happened to fall the week before Christmas, so when we should be out doing the Christmas shopping and all that jazz we were all tucked away at Bolddog HQ transforming 3 stock CRF450's into Freestyle stallions!!
The next job on the list was to get the mobile landing to the first venue, built and ready to ride for the first Arenacross stop which was taking place on January 2nd in Manchester. Now the first round being so close to Christmas and New Year, it creates issues with venues not being staffed like they usually are, in this case the arena in Manchester was not being staffed the week between Christmas and New Year, this meant for us as ramp providers we had to get it in there and build the week of Christmas. Sounds easy but with all the chaos going on leading up to Christmas, the bikes needing to be built and the truck needing to be there so early it was a stressful time for us. That said though, the bikes got built, we made it to Manchester and the landing system was positioned and setup, next job was to drink and eat way too much for Christmas, well at least for me and Arran, ha ha!!"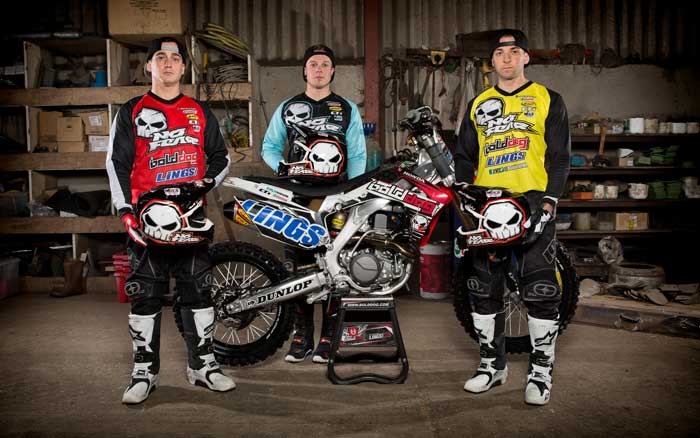 "The tour now is on it's fourth consecutive year and set to be the biggest one yet, one for the record books! E22 Sports dreamt up the idea of a UK Arenacross Tour back in 2013 and with its huge success, the 2016 Tour boasted awesome action just on a much bigger scale. The Tour hit seven different cities with eleven rounds of racing, FMX, and a sound and light show to blow your Christmas socks off over January and February!! We provided the mobile landing system for the Arenacross tour for the FMX show, and once again all three Bolddog Lings FMX team riders got called up to ride in the 8 strong FMX line up. We covered 4,194 miles on the road hitting Manchester, Glasgow, Belfast, Birmingham, Newcastle, Sheffield and ending in a huge dramatic final in London. Every round went off the scale, as always everyone rode to the highest standard ever, and all the team returned home safe with no incidents what so ever."
"Just before the last round of Arenacross, we were once again called up by No Fear for modelling duties (Its our great looks you see ha ha). We spent a day in a freezing cold indoor skate park in Manchester shooting the up coming summer clothing line - So you will soon again be able to see our ugly mugs in a Sports Direct Store near you!
Also, before the London leg of Arenacross myself and Arran were asked to ride some motocross, shooting for the launch of a new Cannon Camera product. This took place at a cold and very wet Canada Heights in Kent, we were basically shredding motos around the British Championship track being shot with a brand new range of flashes coming out on the market in the foreseeable future."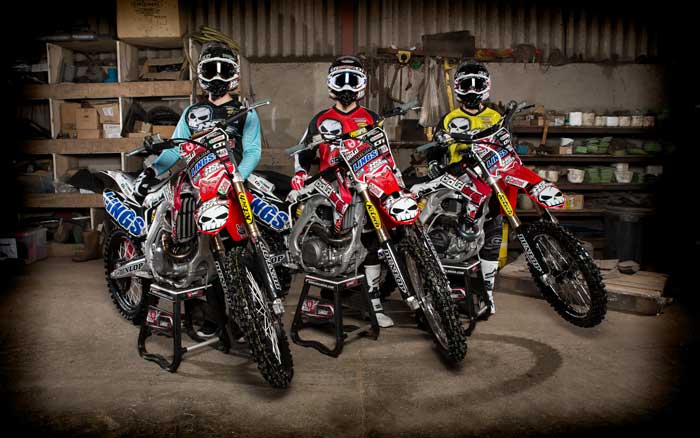 "So March arrived, Arenacross was all over and it was time for some well earned downtime and prep for the Summer Show Season. For myself, I have just had some well overdue surgery on my elbow that I broke in 2011 at a Top Gear Live rehearsal, where I snapped the end off my left elbow resulting in it needing to be pinned and plated back into place. Over the years it has slowly been rejected by my body and all the screws came loose and started to show through the skin. Therefore my doctor suggested it was time to have it out, so I had the surgery on it about three weeks ago. So as I write this I'm on the mend and look to make a return back to the motorcycle in a couple of weeks.

Last but not least, I would like to inform you all that this is mine and Dan's eleventh year riding for the Bolddog Lings FMX Team, and what a ride it has been!!...

Thank you all so much for the continued support and love! We are showing no signs of stopping yet and here's to many more years to come (Hopefully injury pending ha, ha!).

Hopefully we will catch you all soon sometime this season but until then, stay safe, wear a helmet and keep it lit."

From us all at Bolddog Lings FMX Team
(With thanks to Tracy Wittington for the action photo Julian Dann for the static photos)
Whitby's Arenacross blackout at Wembley - NEWS BY Redcat FROM MCN WEB SITE
21 February 2016.
The final round of the Monster Energy Arenacross Tour takes place at the SSE Arena, Wembley on Saturday February 27, and will see top Brit freestyle motocross ace Dan Whitby launch himself into the unknown as he performs his insane headline stunt of jumping in compete darkness on a bike covered in LEDs. At every one of the 2016 Monster Energy Arenacross shows, he does so with the confidence that, not only are his riding skills beyond question, but his body is at its peak and all he has to concentrate on is ensuring he makes the pitch-black landing safely. This is easier said than done – especially as every venure is different, making this already dangerous stunt even more unpredicatble.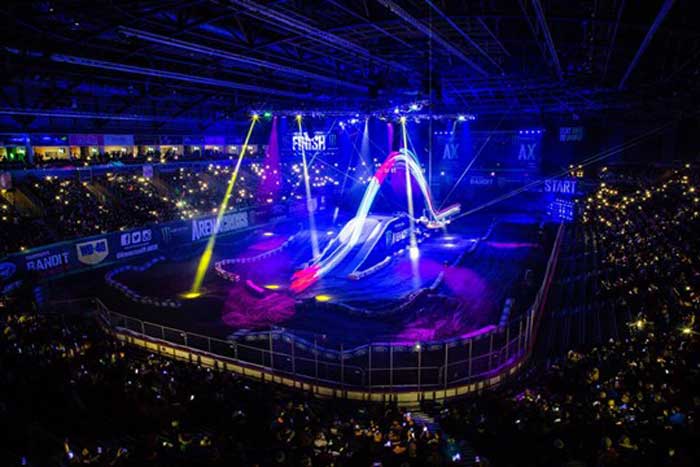 Whitby and his Lings Bolddog team-mates of Samson Eaton and Aaron Powley opened up the world of FMX to the masses a couple of years ago when they got through to the live semis of Britain's got Talent. According to Whitby, participating in the show and rubbing shoulders with Simon Cowell was something of a nerve-wracking experience, but the whole thing pails into insignificance when he starts to psyche himself up each time he hooks up the battery packs and swings his leg over his LED-clad Honda CRF450. Apart from bespoke K-Tech suspension and a few strategically-placed grab bars and, of course, hundreds of tiny lights, his bike is standard spec.
Not only is he visually impaired for the jump and landing, but the weight of the battery packs, clothing and lights adds a further 15% to his body weight, and restricts his movements. "My fitness is ultra-important to me," said the softly spoken, yet maniacally focussed Norfolk man. "I can control what goes into my body and so when I'm physically ready it's almost that I don't have to worry about anything else. I guess hurling yourself and your motorcycle into the dark in front of thousands of people isn't on everyone's bucket list – it's not on mine either really, but I'm told the fans love it – and it keeps me sharp."
The final round of the Monster Energy Arenacross Tour takes place at the SSE Arena Wembley on Saturday February 27. Doors open at 6pm with the main event getting underway from 7pm. Tickets are still available via the Arenacross website, and will be available on the door – but we'd suggest booking in advance to avoid disappointment.
ARENACROSS TOUR PREPARES FOR CAPITAL SHOWDOWN - NEWS BY Redcat
19 February 2016.
The massively-popular 2016 Monster Energy Arenacross Tour, powered by Ford Ranger, is preparing for the climax of what has been an electrifying eleven-round series. It approaches its grand finale at the SSE Arena, Wembley on Saturday the 27th of February with three riders capable of taking the Pro class win. Meanwhile, two British racers are in with a shout to secure the third step of the championship podium.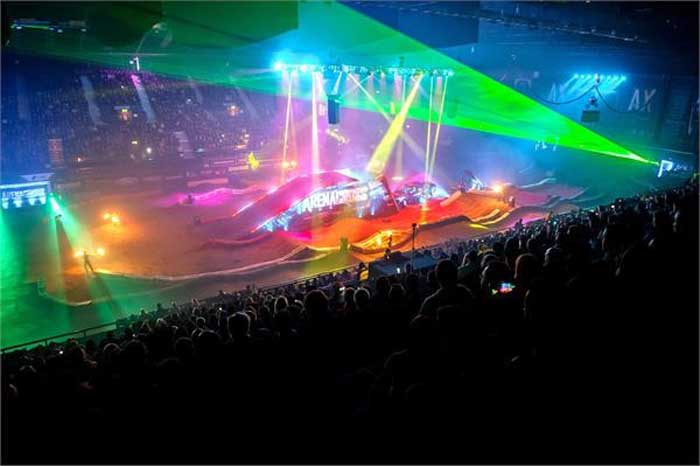 Away from the hard-core racing, the roar of the gathered spectators is expected to reach something of a crescendo when the highly-charged and energetic Freestyle motocross athletes hit the ramps. Edgar 'Godfather' Torronteras, Jamie 'Squibby' Squib, Dan 'Muscles' Whitby, Samson 'Joker' Eaton and Arran 'Babyface' Powley are Tour regulars and have yet to disappoint AX audiences with their wild tricks, massive whips and roller-coaster back flips. Their motorcycle aerobatics often appear to be something of a riotous assembly, which further underlines their skill as, when they are in the train, just milliseconds apart, absolutely nothing can be left to chance. Powley pulled an astonishing Cliffhanger-to-no-hander-lander out of the bag at Sheffield, to the amazement of the audience. There is little doubt that these boys are show-boaters and they are set to throw caution to the wind at Wembley – literally anything could happen.
ARENACROSS IS A SHEFFIELD SELL OUT - NEWS BY Redcat
14 February 2016.
Monster Energy Arenacross Tour powered by Ford Ranger; Round 10, Saturday 13th February 2016.
The Monster Energy Arenacross Tour once again pulled out all the stops to put on an extraordinary show of daring feat, exceptional skill and fast-paced racing action for the penultimate round of the 2016 action-packed series. The thousands and thousands of AX fans who packed the Sheffield Arena to the rafters witnessed Thomas Ramette of SR75 Molson Racing Suzuki reeling in the Pro class points deficit to just three points behind current leader, Geartec Yamaha's Cedric Soubeyras. Elsewhere, the crowning of Joe Clayton as ProLite, and Harry Kimber as SuperMini champions, the first-ever Arenacross electric motocross bike race, and an astonishing jaw-dropping trick from Freestyle ace Arran Powley kept the event ever-fresh and exciting.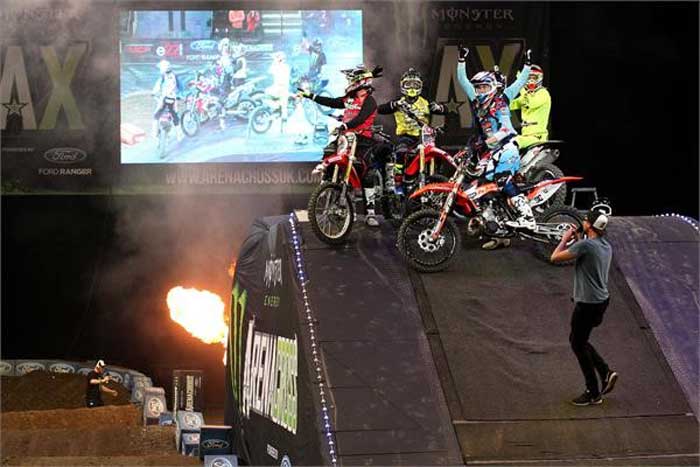 The AX FMX Riders
Between the racing, were the Freestyle gang of Edgar Torronteras, Petr Pilat, Nez Parker, Dan Whitby, Samson Eaton and Arran Powley. The guys are always a massively-popular act with Arenacross audiences and the Sheffield fans were vocal in their appreciation of their performances. As ever the louder the crowd, the more daring the tricks and 'Babyface' Powley was ready to rise to the occasion. He executed a perfect Cliff-hanger-to-no-hander-lander that won him the Big Trick vote and the Sheffield fans were vocal in their support. Commenting on his first 'shootout win' of the 2016 series, he said; "I haven't performed this trick at Arenacross before as we don't usually have the landing space. I haven't done one in six months, but have been thinking about it for a while. I messed about with it in practice, however, it didn't go that well. It's one of the hardest tricks to do and not many people do them but, when the crowd gets behind you, it motivates you to go the extra mile and so I just thought I'd throw it in and see what happened. Luckily it worked but I wasn't expecting to do it twice as if I do it too many times I end up crashing."
FREESTYLE ACTION IS SET TO RAISE THE ROOF AT SHEFFIELD ARENACROSS - NEWS BY Redcat
11th February 2016.
The 2016 Monster Energy Arenacross Tour is ready to set Sheffield alight this weekend when it heads to the city's Arena for the penultimate round of the hotly-contested indoor motocross racing series, and flamboyant Freestyle motocross Show on Saturday the 13th of February.
Having now completed four demanding back-to-back double-headers, the Tour is ready to blast into Yorkshire and pull out all the stops to deliver a packed evening programme of entertainment, and keep its thousands of spectators enthralled for a full three-and-a-half hours of non-stop fun.
Whilst the prowess of the AX motocross racers has been well documented, the Freestylers have 'not so' quietly been captivating the tens of thousands of AX fans who have packed out the Arenas at Manchester, Glasgow, Belfast, Birmingham and Newcastle. These guys will again be headlining, and delighting, at Sheffield when they'll twist, whip and backflip their bodies and machines through three incredible sets. They'll perform their aerobatics some 40' above the track, spanning a gap between two ramps of over 20', and without a safety net in sight. It really does need to be seen to be believed …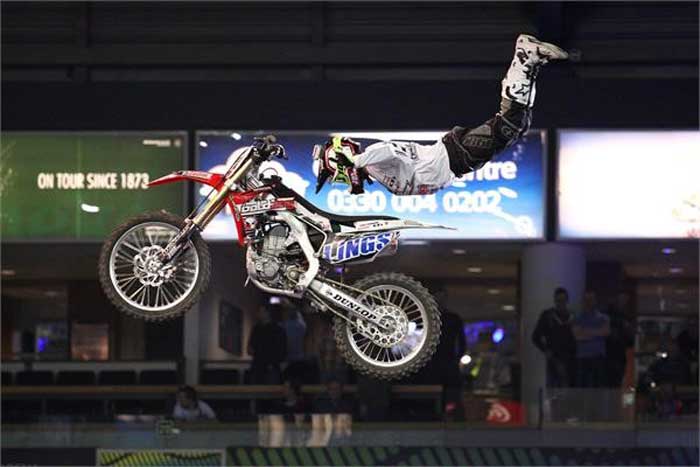 Samson Eaton's Rock Solid
The Arenacross Tour Freestylers include the one and only showboating, banana-faced Spaniard Edgar Torronteras and too-tall uber-cool Czech Petr Pilat. Included in the mix from Britain are high-flying back-flippin' Jamie 'Squibby' Squibb, huge-side-flipping, fluro-clad Nez Parker and the former Britain's Got Talent semi-finalists; 'Muscles' Dan Whitby, 'The Joker' Samson Eaton and 'Babyface' Aaron Powley who together make up the unique Lings Honda Bolddog team - when these guys get into the 'train' anything could happen …
Of course, it doesn't always go according to plan, but that's what makes the Arenacross Tour so spellbinding – literally anything could happen. Could Dan Whitby miss his landing when he jumps in the dark? Could Squibby get over exuberant? Could Edgar look back too far? Who knows …
If you don't know your KOD (Kiss of Death, of course …) from your Rock Solid or Tsunami, it really doesn't matter as master of ceremonies Christian Stevenson, aka DJ BBQ, is always on hand to guide the Arenacross audience, and he usually has his own bent on a few of the Freestyle trick names.
The tenth round of the 2016 Monster Energy Arenacross Tour, powered by Ford Ranger, gets underway when doors open at 6pm on Saturday the 13th of February 2016, the evening's performance kicks off at 7pm.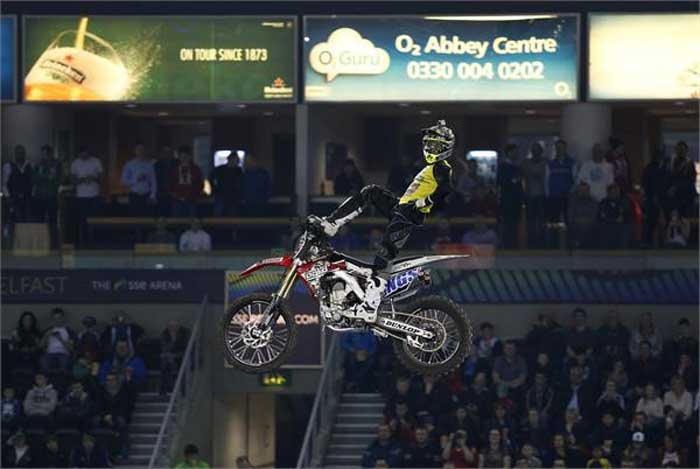 Dan Whitby's Captain Morgan (not America as DJ BBQ would have you believe!)
Tickets are available directly from Sheffield Arena on 0114 2 565656 or by going to the Whats On section at www.sheffieldarena.co.uk
SOUBEYRAS NAILS NEWCASTLE ARENACROSS - NEWS BY REDCAT
30 January 2016.
Monster Energy Arenacross Tour powered by Ford Ranger; Round 8, Saturday 30th January 2016.
The 2016 Monster Energy Arenacross Tour traveled to the North East for round eight of the eleven-round championship. The energetic crowd at Newcastle's Metro Radio Arena were happy to shut out the cold winter night and spend three and a half hours enjoying the very best indoor motocross and displays of freestyle action the UK has ever seen. Uplifting music, lasers, fireworks, zealous commentators, new faces, a head-to-head that was won by pushing the bike over the line, a new championship leader and first win for Monster Energy athlete Cedric Soubeyras, Geartec Yamaha, were the order of the unforgettable night.
The Freestyle athletes, as ever, astonished the audience with their daring higher-than-high tricks and flips. In a reverse of fortunes, it was Lings Bolddog Honda teamster Samson Eaton who became the darling of the Metro Radio Arena crowd wining the first set Best Trick comp. He executed the craziest and baddest Kiss of Death to take the vote over fellow Brit Jamie 'Squibby' Squib, the Spanish wonder Edgar Torronteras, and French master of the backflip Jay Rounet.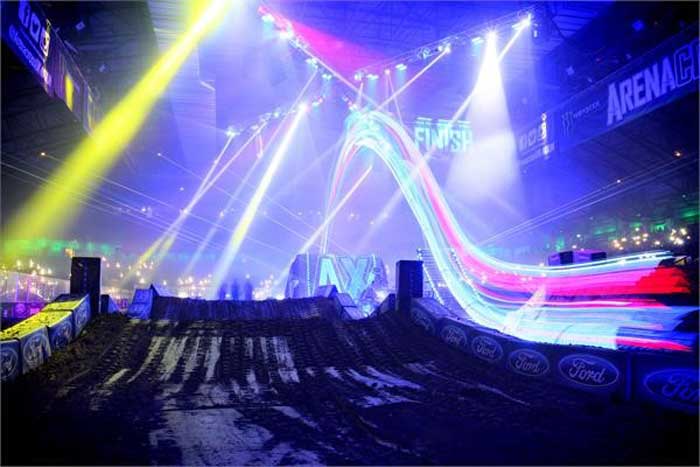 Bolddog Lings Rider, Dan Whitby as The FMX Tron Rider at AX Newcastle!
bolddog lings fmx team news, CHRISTMAS 2015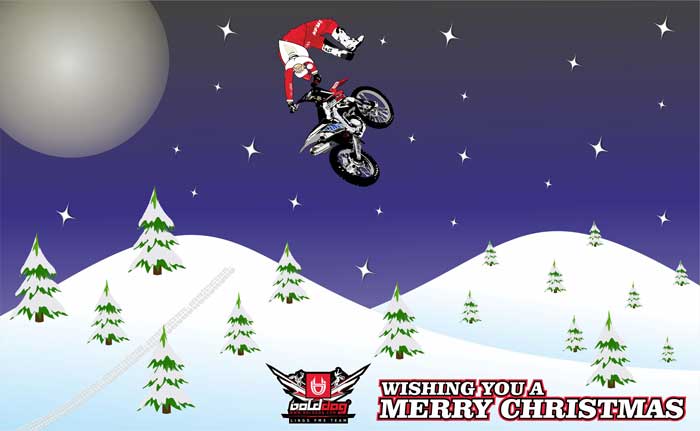 Merry Christmas Everyone!!
Well its that time of year again, Its cold, Its miserable and time to eat and drink too much... This can only mean one thing, It's Christmas time!!!
But before we get into all that stuff that we're too old for now. Samson is going to fill you guys in on what's been happening with the team since our last update...
AX Promo Tour
"So the last time we spoke we'd had the busiest year to date and had just got back from Jersey. After that trip we had a nice little 2 week break to get ourselves ready for the upcoming E22 Sports Arenacross UK Promo Tour.
The AX Promo Tour started in London outside the iconic Wembley stadium on Saturday 17th October, where we joined forces with mountain bike Trials rippers, Zero Gravity UK, to put on FMX and Trials demos all day for free for the viewing public.
We then headed North the following weekend to sunny ol' Manchester City Centre where again free FMX and Trials demos were put on all day.
The following weekend we headed to Birmingham with the AX Promo Tour, where we set up in Centenary Square, just off Broad Street and once again all day the public were treated to free FMX and Trials demos in the name of promoting the Arenacross tour."
The Motorcycle Live Show At The NEC
"Once the AX Promo Tour was over, we had another two and a half weeks off to prepare for a show which is one of the best on the calendar, the 9 day long NEC Motorcycle Live show, where both our mobile landings were hired out along with three take-off ramps and all three FMX team riders.
We joined a list of FMX riders to make your knees wobble, the result was 30mins of insane FMX action inside the Motorcycle Live show of which they named FMX Live in conjunction with Arenacross UK.
Over the 9 days a rider list including Dan, Arran and myself, put on 33 of the most mind blowing FMX shows you've ever seen, and no that wasn't a typo, 33 shows over 9 days resulting in over 600 jumps!! That's not including a full days rehearsal the Friday before the main show had even opened.
One of the highlights was on the last Saturday of the show where Arenacross UK hosted the Monster Energy AX launch party. AX girls, Monster girls, DJ BBQ, Josh Hansen and a kicking live show where our very own Dan Whitby rocked the the crazy LED suit and bike, aka TRON.
Everyone rode great and all were safe when the show closed its doors last Sunday!"
Rest, Then Prep For the Arenacross Tour 2016
"For us now, it's some much earned downtime over Christmas, but not for long as all 3 of us FMX team riders and 1 mobile landing have been called up once again to ride the 2016 Arenacross UK Tour which kicks off in Manchester on 2nd Jan!! An epic tour of which we are very proud to be a part of, for more info check out www.arenacrossuk.com "
So... Merry Christmas!!...
"So we would like to wish you all a very Merry Christmas and a Happy New Year!!!! Once again we would like to express our gratitude to all our sponsors! Thank you all sooooooo much!"

We'll see you in 2016.......

All the very best,

From us all at Bolddog Lings FMX Team

bolddog lings fmx team news, OCTOBER 2015
Hi Everyone, we hope you've have had a great Summer!! In Samson's own words, here is review of what the Bolddog Lings FMX Team have been up to throughout the Summer Season…
May & June
"2015 has got to be well up there with our busiest year to date yet, so much going on and so many miles covered up and down the country, it truly has been manic…
After Arenacross and once May was here, we were booked up every weekend throughout the whole of the month, starting things off in Essex and finishing up in Weston-Super-Mare, a fare few miles were racked up because at one point we were on the road continuously for 2 weeks going from show to show. Things didn't ease up either when June got here, once again we were booked up heavily and pretty much spent every day on the bikes.
It all started down in Salisbury and finished off up in Yorkshire. Myself (Samson) was lucky enough to be asked down as a solo rider to ride one of the most prestigious events in the world, I spent four days down at the Goodwood Festival Of Speed and got to ride with a whole bunch of awesome action sports nut cases in the E22 Sport's GAS arena. Unfortunately I took a tumble on a turndown whip the Saturday night and had to sit out the Sunday, I wasn't fully broken but I might as well of been, I'm pretty sure I cracked a couple of ribs and I fully tore my right groin which made walking a real struggle, that said I had an awesome time and I hope to be asked back next year."
July & August
"July wasn't quite as busy, we had some awesome shows to ride at including a local one at Heveningham Hall near Halesworth, but perhaps the highlight was being asked back to a huge show in Wales, The Royal Welsh Agricultural Show is the biggest of its kind in the whole of Europe! The show is spread over four days and attracts over 150,000 people each day, this show is one we will always remember, but Dan will remember this show forever, it's where he met his future wife to be Emily, over 8 years ago, they are due to get married in 2017!!
During August we were booked out every weekend to ride shows and racked up some miles once again. During his month, one of our biggest sponsors, No Fear had a photoshoot to shoot their Autumn/Winter casual clothing line and they asked the three team riders to come and model for them… I know right… So you will soon be able to see myself, Dan & Ron's ugly mugs in a Sports Direct Store near you soon (ha ha).
The tail end of August did suck for one team rider though, Dan Whitby was practicing on his CRF110 minibike at our place in Norfolk one Saturday, he fell off just in a freak accident and was the proud owner of a broken right collarbone, a fractured right scapular, a fractured right humorous and a torn rotator cuff, the hospital advised him not to return into the saddle for 3 months, but with lots of laser therapy, hard work in the gym and sheer determination from himself, Dan was back on a bike in three weeks. He still isn't 100% but mad props to the guy, nothing was going to stop him from what he loves to do and we're pumped to have him back leading the charge."
September & October
"So that brings us to September which has just been and gone in a flash, usually this time of year tends to be quiet for us but this year was different, once again we were booked out every single weekend. It all started off with us doing a show for the world famous plane company, Airbus, then we had two teams double booked out the following weekend in Essex and Somerset. We then had a nice local show to us in Ipswich, the Grand Henham Steam Rally, and then finished off with a five day trip to Jersey which we are fresh back from!
Now usually that would be the end of the year for us, time to get in the foam pit as the weather isn't too bad yet, time to study up on some tricks whilst still possible, however the 2016 Arenacross tour will soon be upon us and with that in mind it's time for promoter E22 Sport's to get bums on seats so they have put together an outdoor city centre tour to promote the upcoming awesomeness. All three FMX team riders have been called up for this duty along with the ridged mobile landing system, due to hit four different cities in three weekends."
And Our Schedule Up 'til Christmas...
Then if that wasn't enough for one year we also have been asked to provide ramps and riders for the 2015 nine day long Motorcycle Live show in November, myself Dan & Ron will join a cast of European FMX heaven to shred all nine days of the show."
So there we have it, in Samson's own words, what a year so far, as always none of this would be possible without our awesome sponsors, we truly are grateful for all of your help and support.
We hope to see you all soon, the Dirt bike show is coming up at the end of this month so hopefully we'll see most of you there, if not we will catch you all for sure at some point.
From us all at Bolddog Lings FMX Team
bolDDOG STREET BIKE TEAM UPDATE
The Two Brothers Stunt team, have had a very busy 2015 so far performing all over the UK.
New for 2015 is the addition of Ashes all new super long drift bike. This means the street bike team now have two drift bikes which is a first in the UK to have two drift bikes performing at the same time. This makes for a very fast exciting and Smokey end to every show!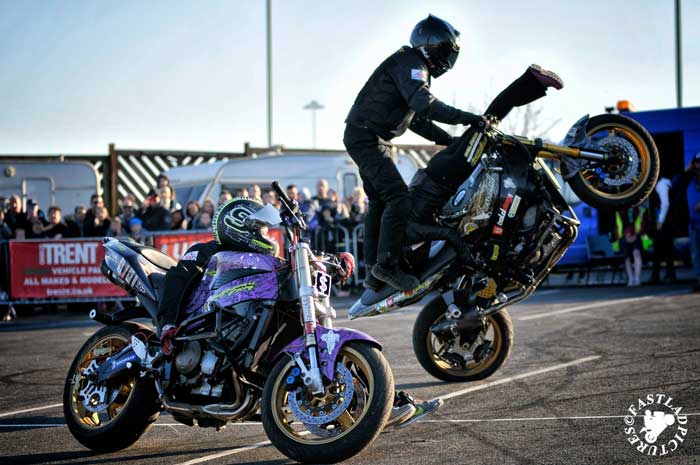 A new show for the team this year was the National Custom Kick back show at Stoneleigh earlier in the year. This was an indoor show which was just as well as it rained for most of the weekend. What a fantastic show this is for all Custom and stunt fans.
The team make a return to Skegness Stadium again this year on various dates throughout the year. The boys always go down well at this venue and the last couple of shows have teamed up with the Drift car show while the Two Bro boys drift on the drift bikes alongside the cars. The team have quite a big following at this venue these days.
The Isle of Man TT also see the team perform down the sea front every night of the race week, this was sponsored by Suzuki and Vandal demonstrated the New GSX-S 1000 every night on behalf of Suzuki. Good job they had a pile of new tyres on hand for the Big Suzuki!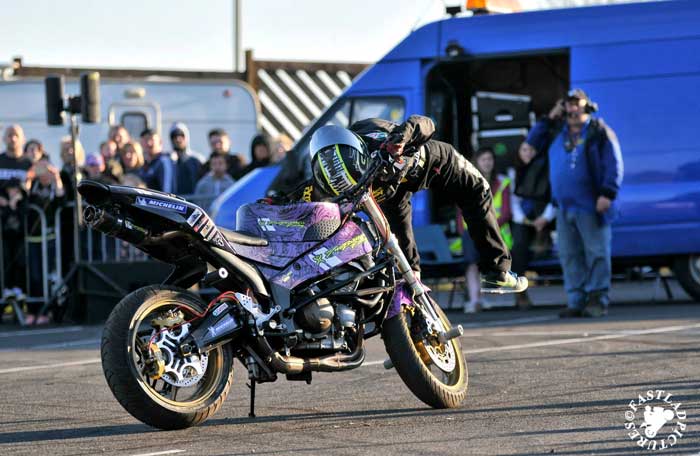 This year sees Vandal competing in the UK stunt championships again. Vandal took top spot in the first round and in the second round at santapod took second spot and now leads the championship by 20 points. Toddy the 3rd member of the street bike team took second spot in the first round and 3rd in the second round. Fingers crossed the boys can make it a one - two in the 3rd and final round next month.
Finally, Ash and Vandal have both done some film work this year, Vandal performing on the popular "Science of Stupid" which is hosted by Richard Hammond. Ash has performed in a film "Gunned Down" and Vandal on another film which cannot be named just yet.
The Next show is at Donington Kick back national custom show, See you there !
bolddog lings fmx team news, spring 2015
Please see below, in Samson's own words, the Bolddog Lings FMX Team Update on what's been happening at the start of the 2015 season…
Flat out From The Off!
"As soon as the year started we have been flat out, some of you will know that this time of the year is the time for E22 Sport's indoor Arenacross series, now in its third and biggest year! The FMX mobile landing system was again booked to be used at all 8 rounds of this year's series and alongside it, our very own Dan Whitby, Arran Powley and Samson Eaton were also confirmed to ride all 8 stops, with a world class FMX line up! They joined Jamie Squibb, Dave Wiggins, Petr Pilat and Edgar Torronteras to light the 2015 Arenacross UK series on fire with whips, Flips and crazy tricks.
In addition to the FMX, E22 show creator/organiser Matt Bates came up with something very new for this year, it was something that had never been done before anywhere in the world, without any pre-tour testing our very own Dan Whitby signed up to ride a section in the show in the pitch black on a CRF450 totally covered in LED's, he did this at all 8 stops without a hiccup and pulled off a world's 1st in the motorcycle industry.
The 8 round tour started in style on 3rd January, in a sold out Phones 4U arena in Manchester. The first night went off without a hiccup and the sold out crowd made for a night that they wouldn't forget.
Rounds 2 & 3 were in the iconic Odyssey Arena situated in Belfast, Northern Ireland. Now this stop is usually the best of the whole tour but it almost didn't happen at all - Severe weather caused all ferries making the trip over to be cancelled for one whole day, So along with all the pro teams and schoolboy racers we sat in Birkenhead Ferry Port for 24hrs waiting for the next boat to cross! We were due to sail on the Wednesday evening ready to build on the Thursday, but with our boat being cancelled we then set sail on the Thursday evening which meant we had to build on the Friday. Usually this would not have been a problem but the first night of the show was the Friday night! So working like absolute you know whats, we rushed the set up and the night show went off without a beat missed, as did the second night."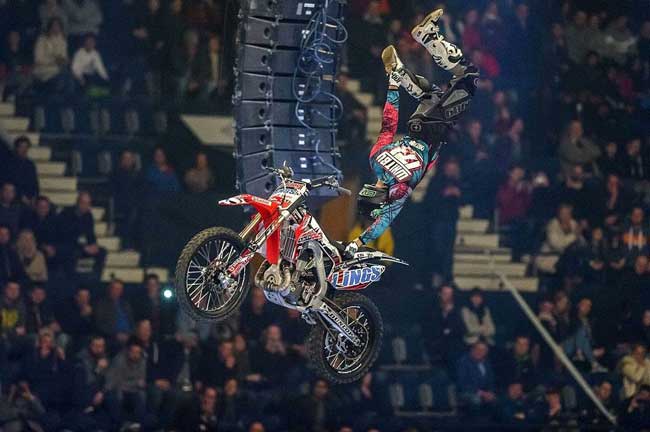 And Then Up North...
"Round 4 was at the infamous NEC in Birmingham, the newly crowned Genting Arena hosted the half way point of the tour. Once again a sold out house was witness to some of the best racing and FMX of the whole tour.
Round 5 had us head North to Newcastle's Metro Radio Arena, After Strictly Come Dancing had cleared out, the dirt was moved in and the FMX landing was built. Once again E22 Sport's sold the place out which was a mean feat as the show was on the Sunday afternoon.
Round 6 saw us head even further north and for the first time to Scotland, Glasgow's one year old Hydro Arena hosted the next round of racing and FMX. Now much to our surprise this was the best stop yet, the loudest crowd, the best racing and the wildest freestyle."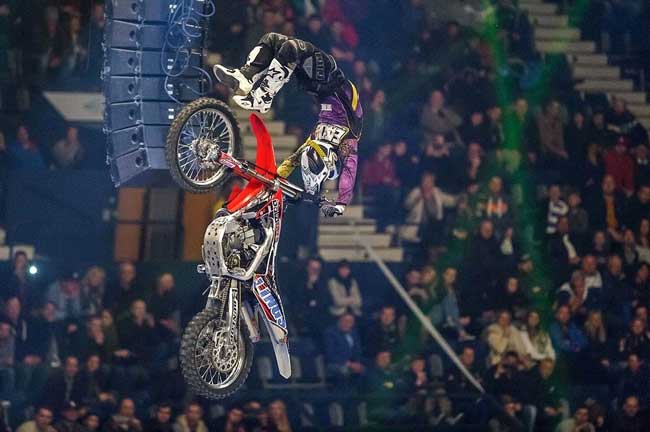 The Final Rounds
"For Round 7 we returned to the home of British indoor motocross, the Motorpoint Arena in Sheffield, usually home to the Sheffield Steelers ice hockey team, the arena was once again transformed into a motocross rider's heaven. With a lot to live up to, I've got to say they did not disappoint. Sheffield was and always is the loudest crowd of the tour! Everyone rode their pants off and it was the best night yet!
So next to the final stop of the tour, Round 8 saw us head south to the newly named SSE Arena at Wembley London, same place just a new name! For us here at Bolddog, it was going to be a night to remember, we stamped our debut in our new kit & casual clothing sponsor, No Fear, we are pumped to be a part of the team! The show went off and did not disappoint. For this last round, the FIM FMX World Champion Remi Bizouard joined all the FMX riders, so some insane tricks were thrown down in the night show and it was possibly the best round of the whole tour!
With that said, 7 Cities, 8 rounds and 3,821 miles travelled the 2015 Arenacross UK tour is now finished, It was an awesome tour to be involved with again and we can't wait to see what they do next year to top it."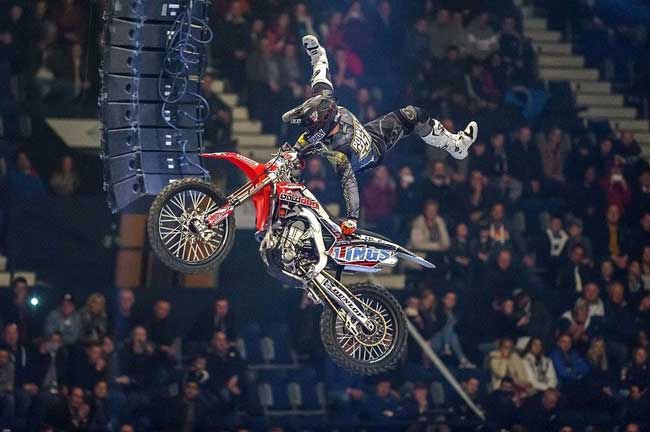 Time For Maintenance and for Training
For now the team can finally breathe, time for a few days rest, then back to training and preparations for a packed out 2015 UK summer show season.
Hopefully we will see you all throughout the year at some point up or down the country. So until we see you, or until the next update, stay safe, have fun and we will see you soon!
Thanks from us all for all your support,
From us all at The Bolddog Lings FMX Team
DAN & ARRAN FLIP MINI-BIKES OVER THE FULL SIZE FMX RAMPS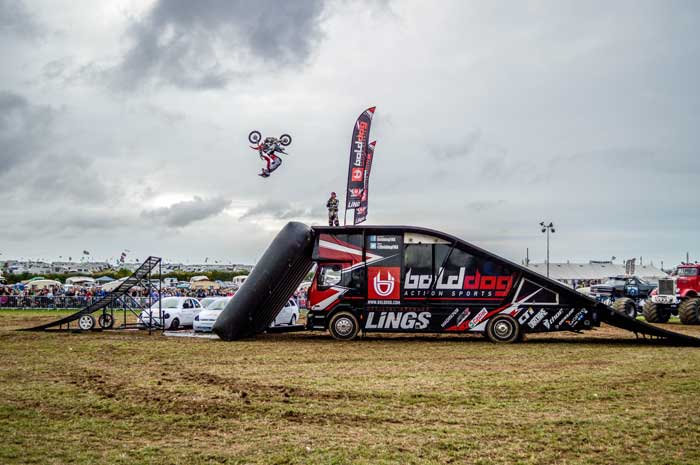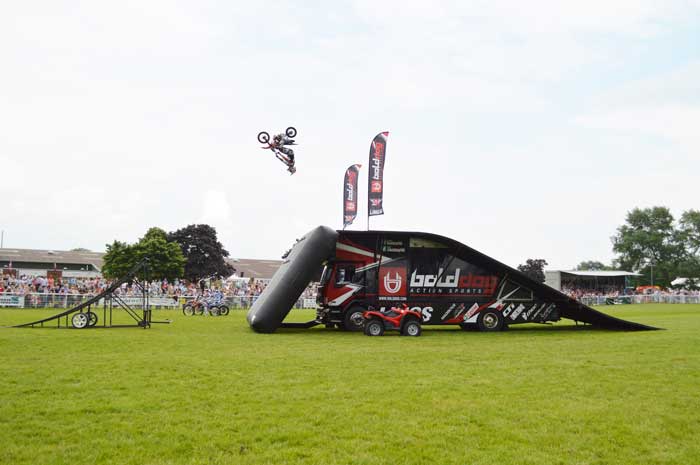 FMX TEAM ROUND-UP 2014
From what started out looking like a really busy 2014 turned out to be possibly our busiest year to date. We started the year in style with the 2014 Arenacross Tour which was an awesome tour to be involved in once again, we then hit the nations screens with our feature on the 2014 Britain's Got Talent Series which once again was awesome to be involved in and got us all great national and worldwide coverage.
The packed out summer season then started out in mid-May and went right through to October. Just before we finished up the show season in Jersey, we flew out to Hong Kong with the Mini Bike set up for a specialist corporate event. Within less than 48 hours, we flew there, rehearsed and performed on a stage that we shared with worldwide superstar Jessie J, and then flew home! It was extremely tiring but it was an experience for sure and one to add to the tick list.
We then finished out the year with 10 days at the annual Motorcycle Live show in Birmingham, only on the mini-bikes, but never the less an awesome 10 days of fun were had to see out the 2014 season.
So from us all, thank you very much for your help and support throughout 2014, we could not do it without your support, and we look very much forward to continuing the awesome adventure in 2015.
From us all at the Bolddog Lings FMX Team.