News Archive
NEWS ARCHIVE 2002 - 2004
IFMXF Euro FMX News MARCH 04
Freestyle Motocross to rock Bern, Switzerland on the 17th and 18th of April!

The oldest running European Freestyle Motocross series -"NIGHT of the JUMPs" will be premiering in Switzerland for the first time this year on the weekend of the 17th and 18th of April 2004. The International Freestyle Motocross Federation will be hitting Bern with some of the best riders in the world to battle it out over world ranking points and a huge purse of 21.250,- Euro!

Awaiting the public is the usual IFMXF contest schedule of "Best Whip", "Highest AIR" and "Freestyle". Both days promise to be packed full of adrenalin and high-flying acrobatics.

The NIGHT of the JUMPs Bern will introduce the first closed qualification segment of the 2004 IFMXF season. This closed qualification offers all interested riders the opportunity to fight for he last two remaining roster positions in the contest line-up. This premier will hopefully prove to be a stepping stone for riders who were previously unable to secure an IFMXF roster osition in past contests and seasons. At the moment riders from England, Sweden, Norway and France have taken the opportunity and reserved a starting slot for the closed qualifications on location.

The main line-up will host some of the best names in Freestyle seen today. Riders like show-man Ronnie Renner from the US as well as the high-flyers Busty Wolter out of Germany and FMXF ranking leader Ailo Gaup from Norway have shown interest in starting in Bern.

The following riders have been invited to attend the NIGHT of the JUMPs in Bern, Switzerland:
- Busty Wolter (Germany)
- Nick Franklin (New Zealand)
- Thamer Engeli (Switzerland)
- Oystein Kjorstad (Norway)
- Ronnie Renner (USA)
- Fredrik Johansson (Sweden)
- Mathieu Rebeaud (Switzerland)
- Gary Taylor (England)
- Ailo Gaup (Norway)
- Kris Brock (England)
- Derek Burlew (USA)
- Jimmy Verburgh (Belgium)

Closed qualification contestants are at the moment:
- Chris Birch (England)
- Fabien Fenouil (France)
- André Villa (Norway)
- Fredrik Berggren (Sweden)

Doors Open:
on Saturday, 17. April / 14.00 hrs. (Expo) / 19:00 hrs. (Show starts)
on Sunday, 18. April / 10.00 hrs. / 14:00 hrs. (Show starts)


---------------------------------------------------------------------------
IFMXF Euro FMX News APRIL 04
Backflip mania at the A1-NIGHT of the JUMPs in Vienna!

World class FMX rocks Austria on the 27th and 28th of March!

Saturday:
For the second consecutive year Vienna hosts Europe's oldest running and most successful indoor Freestyle Motocross (FMX) series, the NIGHT of the JUMPs on two days before a sold out audience of 17.000 crazy fans. 15 of the world's best riders converge to battle it out and present the best in FMX seen today on the planet.

Included in this amazing line-up are the likes of high-flyer and IFMXF World Ranking leader Ailo Gaup from Norway and old-school legend "Mad" Mike Jones from the United States. Both riders had taken home gold at the two-day event last year and are back to prove their style and talent to the five strong panel of judges. It's not going to be easy with other big names like Australian Metal Mulisha bad-ass Dayne Kinnaird and show-man "Who is your Daddy" Ronnie Renner from the states contending for pole position and IFMXF ranking points. With the rumour out that the European elite have been working on their backflips during the winter break, the tension is high as the sold out venue anticipate what may be about to come.

After the opening pyro and light show and the presentation of the riders, the audience is geared for an amazing night of adrenalin filled acrobatics and break neck moves. First out on the track is local hero Martin Schenk, who last year struggled on his 125ccm and is back on the 250 to show his stuff.

First out after Martin is living legend, "Mad" Mike Jones from the US to show Austria again that he's here to take home gold and put the rest of the riders behind him. Mike who is know for his great show doesn't disappoint the crowd and executes his classic "Heelclicker No-Hand Landing" among a wonderful "Superman Indian-AIR" and hard-core moves that Jones stamps with his unmistakeable style.

Next to hit the track is Nick Franklin, representing New Zealand who fills his run with an insane "Rock Solid" among other perfectly executed stunts and is definitely a rider to reckon with not only for the finals, but also in the coming years. His amazing run and perfectly extended tricks such as his "One-Hand Seatgrab Indian" put him at a solid 1st with 202 points.

Out next is Jimmy "Jimbo" Verburgh who with his classic style and cool moves starts out his run with a "Cordova" over the Red Bull Kicker and heads straight into crazy "Shaolin" and a great "Superman Seatgrab Whip". He's not happy with his run and it shows while he waits for the results taking home 105 points.

Switzerland's best and shooting star, Mathieu Rebeaud, is next out on the track, Rebeaud who shares the IFMXF-Highest AIR record of 11 meters with Benoit Milot has yet to take home gold in FMX in the series. Also rumoured to pull the backflip, the venue is set for the first flip in the evening festivities. With hushed anticipation 18.000 eyes follow as Mathieu lines-up to the Red Bull Super-Kicker and- NO Mathieu doesn't feel up to it. Still his run is packed with perfect stunts; "Stripper, One-Handed-Superman Seatgrab, Tsunami, Hart-Attack-One-Hand and a extreme Hart-Attack Helicopter" The run is solid and the judges award him with 155 points. Will it be enough for the final six?

Oystein Kjörstad took to the track next. Oystein is known for his perfect seatgrab variations and usually pulls out all the stops in taking his run to the limit. Kjörstad, also recently a backflip candidate had to pull out the big gun if he was to have a chance of grabbing the pole position away from the other riders and under extreme pressure from the intense vibe in the
arena lines-up his Suzuki to the Red Bull Kicker and executes his first IFMXF backflip in front of frantic Austrian's pumped with flipping fever. The landing turns out a bit dodgy and so the cool Norwegian loses a few important seconds to kick his bike on and line-up for his next jump.

Combo-master and multiple IFMXF gold winner, Dayne Kinnaird from outback Australia is next out on the track and takes to the jumps like a bat out of hell. No one in freestyle today can match his moves and trick combinations that he throws out faster than most can follow. A few of his combinations don't even have real names and so he leaves the audience scratching their heads in stunned amazement at his incredible run.

Back in Austria again is US-Boy Ronnie Renner who premiered last year at the IFMXF World Cup in Salzburg. Ronnie had a great ride in Salzburg and is back in Austria on his new KTM to try and take home gold again at his second IFMXF contest. With his signature Tsunami and hard-core whips Ronnie goes up against the standard set down by the previous 7 riders.

Benoit Milot, an IFMXF rider from day one is back for his 4th season on the circuit and is next out. Known for his crazy whips and incredible talent, this cool guy out of snowy Canada is here to finally try and secure first place. Ben who in the past has clinched first in Highest-AIR and whip seems to be struggling with the distances of 21meters. Big-AIR is his style and
Ben always feels more comfortable jumping farther then most arenas in Europe will allow. With a perfect "Seatgrab Indian" and a hard core style Ben pushes it all the way, but on jump four his Honda bogs and he takes a bad spill and ends up limping from the track calling it a night.

Rider number 10 is Derek Burlew who starts his run with an incredible "Double Hart attack", "Hart Attack Indian" and keeps it going with a "Lazyboy", "Sidewinder Seatgrab" and a "One-Handed-Superman Indian AIR". A great performance that is sure to impress the judges. Derek takes the 174 points and his final slot with a happy wave to the crowd.

Norway's premier athlete Ailo Gaup is next out. Ailo who was the first European to risk the backflip under IFMXF contest conditions knows he has to show the crowd that he is not willing to give-up gold. As expected the Norwegian takes to the kicker and shows the crowd yet another backflip. By now the arena can barely contain the stampeding ovations of the sold out
audience. Ailo Gaup, hits the course showing his extreme "Nine O'clock Nacs" and perfect Rock Solid and Seatgrab tricks landing him behind Nick Franklin with 196 points.

Gary Taylor who just recently got his backflip down is rumoured to try the flip in Vienna and so the crowd hushes in anticipation of the big trick. Will he show it in the qualifications?! Gary took the turn to his first jump and the dead give-a-way slow approach brings the crowd in to a frenzy and YES! Taylor premiers with his first IFMXF backflip, however under-rotates and takes a nasty spill having to call it a night to go and find some ice for his face.

UK big-name and first generation rider, Kris Brock battles it out with a great run and stylish moves. Kris has been on the IFMXF circuit for the past three years and his experience shows with some great extensions and perfect execution. Kris throws out his signature "Shoe-Box" landing him on a solid 7th place only 4 short points from the final six.

Next up and final rider in the qualifications is one of Germany's best Freestylers Busty Wolter. Busty has been on the fast track for the past six months and his incredible dedication shows. After some training sessions up in Scandinavia where Busty has nailed the backflip, word has it that Wolter may try and premier with the flip in Vienna. A great run including a perfect "Indian AIR", "Lazyboy" and "Hart Attack" is full of variation but without the flip. The amount of different tricks will give him some extra points from the judges and might just be enough for a slot in the finals.

Ovations follow and the crowd is set for the next segment of the evening. The whip contest is about to begin.

Results Qualifications

1st - Nick Franklin (New Zealand) - 202pts
2nd - Ailo Gaup (Norway) - 196pts
3rd - Dayne Kinnaird (Australia) - 193pts
4th - Ronnie Renner (USA) - 187pts
5th - Derek Burlew (USA) - 174pts
6th - Sebastian Wolter (Germany) - 173pts
7th - Kris Brock (England) - 169pts
8th - Mike Jones (USA) - 166pts
9th - Mathieu Rebeaud (Switzerland) - 155pts
10th - Oystein Kjorstad (Norway) - 120pts
11th - Jimmy Verburgh (Belgium) - 105pts
12th - Martin Schenk (Austria) - 66pts
13th - Benoit Milot (Canada) - 44pts
14th - Gary Taylor (England) - 19pts.

The whip contest hosts six of the evening's best whipping talents with great names like Renner and Jones, heading into the contest. Three groups of riders battle it out against each other leaving three of the best to fight it out in train formation for the whip final. Another four jumps later the winner, Ronnie Renner (USA), is decided and takes 1st with back-claps and a
cheering roar from the pumped spectators.

Results Whip

1st. - Ronnie Renner (USA)
2nd - Derek Burlew (USA)
3rd - Mike Jones (USA)

Intermission is to follow and while the Austrian's go off to fill up on bratwurst and beer, the six finalists head back to the pit to feverly scribble down their runs for the 1 ½ minute ride that is now just right around the corner. Stocked full of great riders, this final should prove to be a hard-fought battle between these extraordinary athletes.

One more segment is left for the night before the finalists can position themselves for a gold on day one of the A1-NIGHT of the JUMPs in Vienna. Highest-AIR is up and expectation is strong for the IFMXF Highest AIR Word Championship holder, Mathieu Rebeaud to finally take the title for his own (Benoit is out due to a hurt and swollen hand). Tension is high and so is
the bar. Starting at 5,80meters the bar is steadily moved further up. Burlew has to take leave not making the height of 7,30meters, while Renner and Rebeaud still battle it out. In the end Mathieu Rebeaud screams up to 7,90meters and grabs the title, but lands a bit off, washes out and hits his elbow. Later in the show Mathieu heads off to the hospital for some stitches. Although the record is still standing the evening winner happily takes leave in the knowledge that he has proved his skill against such hard competition.

Now the venue is really about to explode as the six finalists gear-up and mentally prepare for their two minute runs. With more of the same witnessed in the qualifications seen in the finals, each rider takes his run to the limit. Highlights being the flip from Ailo, the "Holy Grab" from Nick Franklin and the perfect and technically exact run of Dayne Kinnaird ("Turn Table, "Stripper", One-Hand Indian", "Tsunami", "Flinstone" and "Indian Air to Heelclicker". In the end all the finalists are winners to be able to make it in such a tight field of riders. But only one can take home IFMXF gold. And the winner is ................... Dayne Kinnaird! Celebrated with dancing babes and fireworks Dayne heads into the legendary IFMXF after show party to ride out his adrenalin until the show kicks off again and each rider takes their opportunity to grab gold for Sunday.

Results Finals

1st - Dayne Kinnaird (Australia) - 244pts
2nd - Ailo Gaup (Norway) - 240pts
3rd - Nick Franklin (New Zealand) - 237pts
4th - Ronnie Renner (USA) - 218pts
5th - Derek Burlew (USA) - 200pts
6th - Busty Wolter (Germany) - 186pts

Ailo Gaup takes revenge and Backflips his way to Gold on Sunday!

World class FMX rocks Austria on the 27th and 28th of March!

Sunday
Back for the second day of extreme acrobatics the riders are geared for another sold-out venue and big AIR at the A1-NIGHT of the JUMPs. Some riders are still struggling from the previous antics at the IFMXF after show party the night before and so a few are downing Red Bulls in the hope of gaining a little more energy for the contest to come.

Due to injuries both Matheau Rebeaud and Benoit Milot are not in the roster for Sunday. Gary Taylor is having problems with his bike and is trying to straighten out his machine that took some damage from the crash the night before. The damage is too extensive and he won't be able to ride. Backfliper Fredrik Johansson out of Sweden flew in for the Sunday event and should be a great addition to the line-up.

Again the venue is sold-out to standing room only. A lot of spectators who saw the amazing show on Saturday were back again to witness one of the best FMX events in Europe.

Wildcard rider Martin Schenk is out on the track first showing a great "One-Hand Seatgrab", "Flinstone to Saran Wrap" and "Turn-Table". Although his run is far better than the night before Martin will have difficulties getting into the finals.

Second in line is Jimmy "Jimbo" Verburgh who throws out a nice "Cordova" over the Red Bull Kicker and continues with a "Sidewinder Seatgrab", "Shaolin", "Superman Seatgrab Whip", "Stripper", "9 O'clock Nac to Heelclicker", "Hart Attack Indian", "Superman", "Seatgrab Indian" and ending with a classic "Whip". A solid run honoured with 151 points from the judges.

Ronnie Renner is out next. Starting with a killer "Whip". His run is extreme with highlights such as an amazing "Stripper" that seems to be frozen in time as he flies across the arena and his classic Tsunami. 201 points are awarded to "Who's your Daddy" Renner putting him in pole position.

Rider number four is Kris Brock who starts his run with a extreme "Superman" and keeps it going with a good "Flinstone", "Whip-No Foot Nac", "Nine O' Clock Nac" and "Cliffhanger". Kris struggles with two of his jumps though and rides two dead sailers that will punish him when it comes to his qualification points.

Next out is Oystein who amazed the crowd by flipping at the contest on Saturday. He rips on the track and the crowd just knows he'll try the flip again. The tension grows as he heads to the Red Bull Kicker and starts his run with the flip. He continues with a "Saran Wrap-Indian AIR", "9 O'clock Grab", Hart Attack", a "Cordova" over the Siemens Mobile Kicker and again
ending his run with the flip. 179 points go to Oystein for his great performance.

Triple 5 rider, Fredrik Johansson is out next. Johansson flew in on Sunday and had only 10 minutes of practice for this big event. His nervousness shows, but he still pulls some good stuff. Highlights being- "Shaolin", "Turn Down Whip", "Stripper" over the Siemens Mobile Kicker, "Sidewinder Grab" and his "Indian to Heelclicker. He's not happy with his run and heads off the track with 155 points that he knows probably won't cut it for the finals.

Busty Wolter is next and he is geared to make it into the finals again for Sunday. He starts his run with a "Lazyboy" over the Red Bull Kicker and keeps it going with a fully extended "Bar Hop", "Indian-AIR", "One-Hand Seatgrab Indian", "Kiss of Death" and Cliffhanger. It's a solid run, but will it be strong enough for the final line-up?

Mike Jones is out next and starts out with a "Shoe Box-Fender Kiss", "Superman Hump", "Lazyboy", "Superman Indian", "Superman Seatgrab Whip" and "Heelclicker to No-Hand Landing". Mike goes to his last jump over the Siemens Mobile Kicker and tries the "Side Saddle Landing", but even in the air Mike is barely on the bike and crashes as he lands. He's all right
though, but decides not to ride the finals.

Backflip European superstar, Ailo Gaup, heads out next. Ailo starts his round with the flip and goes on with "Rock Solid", "Cliffhanger", "9 O'Clock Nac", "Hart Attack Double Grab", "Cordova", another "Hart Attack Double Grab" and "Indian Air". Awarded 190 points from the judges, Ailo takes a solid 2nd and pulls into the finals.

Next up is Derek Burlew who pulls the "Lazyboy", "One-Handed Hart Attack", "Cliffhanger", "Hart Attack Double Grab", "Helicopter Hart Attack", "Rock Solid", "Whip" and "Side Winder Nac" Derek gets 170 points only one point behind Jones.

Rider number 11, Nick Franklin, heads out on the track with an amazing run including some great "Hart Attack" variations a classic "Tsunami" and perfect "Rock Solid". 170 points also go to Nick.

Last rider in the qualifications is the winner from the night before, Dayne Kinnaird out of Australia. This great rider hasn't been seen riding this good at IFMXF comps for just about a year now and it's nice to see the old Dayne back on his level. Some highlights of his run: "Turn-Table", "Stripper to Saran Wrap", "Indian to Heelclicker", "One-Handed Seatgrab-Indian",
"Flinstone", "Twich" and a perfect "Tsunami. 183 points go to Kinnaird. The finalists are set as the crew prepare for the whip contest.


Results Qualifications

1st Ronnie Renner (USA) 201 pts
2nd Ailo Gaup (USA) 190 pts
3rd Dayne Kinnaird (Australia) 183 pts
4th Oystein Kjorstad (Norway) 179 pts
5th Mike Jones (USA) 170 pts
5th Nick Franklin (New Zealand) 170 pts
7th Sebastian Wolter (Germany) 169 pts
7th Derek Burlew (USA) 169 pts
9th Fredrik Johansson (Sweden) 155 pts
10th Kris Brock (England) 152 pts
11th Jimmy Verburgh (Belgium) 151 pts
12th Martin Schenk (Austria) 104 pts
13th Gary Taylor (England) 0 pts


Results Whip

1st Kris Brock (England)
2nd Ronnie Renner (USA)
2nd Derek Burlew (USA)


Results Highest AIR

1st Jimmy Verburgh (Belgium) 7,40 meters
2nd Ronnie Renner (USA) 7,00 meters


Results Finals

1st Ailo Gaup (Norway) 283 pts
2nd Ronnie Renner (USA) 264 pts
3rd Nick Franklin (New Zealand) 259 pts
4th Dayne Kinnaird (Australia) 247 pts
5th Derek Burlew (USA) 227 pts
6th Sebastian Wolter (Germany) 219 pts
7th Oystein Kjorstad (Norway) 212 pts

Words by KJ

---------------------------------------------------------------------------
IFMXF Euro FMX News MAY 04
Switzerland hosts 2nd round of the NIGHT of the JUMPs series.

20 riders battle it out in Berne on the 17th and 18th of April.

- Busty Wolter from Germany takes his first IFMXF win!
- Ailo Gaup out of Norway takes home gold on night two!

The IFMXF (International Freestyle Motocross Federation) hits Bern for a two day event with the premier of the first closed qualification round for riders to try and snatch the remaining for roster positions in the evening line up and main contest.

10 closed qualification riders out of 6 nations have made their way to Berne to try and make it for the evening festivities. Included in the line up is South African Red Bull rider Nick de Witt, German riders Frederik Peters and Marc Fischer from Team Upforce, UK riders Jamie Squibb and Chris Birch, Norwegian rider André Villa, Swedish rider Fredrik Berggren and the French Lazytroop posse Fabien Fenouil, Robert Bertrand and Rémi Bizouard.

The vibe in the paddock Saturday afternoon is charged and the riders are stoked to have the opportunity to ride with big names like old school legend "Mad" Mike Jones from the states, Norwegian IFMXF World Ranking leader Ailo Gaup and UK heavyweight Kris Brock.

The track is very technical with a total of three jumps. The distances are smaller than usually seen on the IFMXF circuit as the course has been built into the size of an ice-hockey field. One ramp is set at 19 meters, one at 17 and the Red Bull Super Kicker at 10 meters. One massive landing is situated in the middle of the arena.

Closed Qualification round (Saturday)

Five judges including judging critic Mike Jones head up the panel for the closed qualification. First out on the track is Nick de Witt who has already been to two IFMXF comps in Austria and has gathered hands-on contest experience that should prove to be valuable for the qualification round. He hits the track with some of his trick highlights being a great one-hand superman Indian Air, Double Seatgrab, Cordova and a massive lookback Indian Air. A great run with not one dead sailor gives him a total of 112 points.

Next out is French Lazytrooper Robert Bertrand who lives and breaths Freestyle like no-one else. This crazy Frenchman rips out on the track and jumps two dead sailors over the 19 and 17 meter ramps and then heads to the Red Bull Kicker and does the backflip!!! He over rotates a little and has a very small crash but gets up with his arms raised as the small crowd in the arena explode in standing ovations and whoops. Considering that Robert has only ever done two flips into water before hitting his first backflip on dirt in Berne, this is an amazing and extremely crazy stunt. Although he only gets 31 points from the judges he will go down in the IFMXF history books as an extremely crazy individual!

Riding buddy Rémi Bizouard is out next and shows some great tricks: One Handed Superman Seatgrab, Indian AIR Superman Seat, Cliffhanger, Hart Attack and a great rock Solid. One Dead Sailor on his first jump pushes the points down a bit and he takes home 83 from the judges.

Shooting star and 17-year-old young gun Freddy Peters from Germany is out next showing a great Cliffhanger, Lazyboy, Sidewinder Seatgrab, Flinstone, One Handed Seatgrab, Pedulum and Airwalk to Heelclicker. The third jump ends in a dead sailor and Freddy gets awarded 119 points putting him in the lead.

Riding buddy and team Upforce member Marc Fischer takes to the track next with a No Foot Can Can, Barhop, Superman Seatgrab Indi, Lazyboy, Shaolin and a Heelclicker. With two dead sailors in his run Marc will have a hard time securing a roster position with his 64 points.

Swedish rider Fredrik "Frog" Berggren who also rides for team Upforce is out next presenting a One Handed Seatgrab, extreme Stripper, Double Seatgrab, Dead body, One Handed Superman Seatgrab and a massive whip. Frog also has one dead sailor in his run and is awarded 110 points from the judges.

English rider Chris Birch from team Boldog is out next and pulls some great stuff: One Handed Seatgrab Indian, Airwalk, Saran Wrap, Cliffhanger, Look back Indian Air and the first No-Hand landing at the event. He didn't get as many jumps in as the other riders and the result shows with only 73 points from the judges.

Jamie Squibb from England heads out next hitting his first jump with a 9'oclock nac, repeats that on his second jump and goes on with a Superman, One hand superman Indi, a massive Superman, pedulum and a double Seatgrab. His racing style comes through and even with two dead sailors in his run Squibby still pulls a lot of jumps during the 1.30 minute run. Jamie takes 118 points from the judges putting him in 2nd place and giving him a position in the evening roster.

André Villa from Norway is out next with a Double Seatgrab, Dead body, One Handed Seatgrab, Cordova, Barhop and 9 o'clock nac. His riding is perfect and the tricks massive, but he just didn't squeeze enough into his run and gets awarded 103 points from the judges.

Last out on the track is Fabien Fenouil who seems to be struggling with a few dead sailors and some average tricks that just won't be enough for the final roster. This great rider doesn't seem to mind that much and is already fixing his sight on the next IFMXF closed qualification round in Nimés, France on the 12th of June.


Results closed qualification round

1st Freddy Peters (Germany) 119 points (Qualified)
2nd Jamie Squibb (England) 118 points (Qualified)
3rd Nick de Witt (South Africa) 112 points (Qualified)
4th Fredrik Berggren (Sweden) 110 points (Qualified)
5th André Villa (Norway) 103 points
6th Rémi Bizouard (France) 83 points
7th Chris Birch (England) 73 points
8th Marc Fischer (Germany) 64 points
9th Robert Bertrand (France) 31 points
10th Fabien Fenouil (France) 29 points


Qualification round Saturday evening

It's 7pm and the venue is filled with 8.000 crazy fans. The vibe in the pits is charged as the 14 qualification riders gear up and get ready for the evening acrobatics.

First out on the track is Fredrik Berggren who starts his run with a one Hand Indian Seatgrab Indian Air and continues with a Stripper, Dead Body, Sidewinder seatgrab, One Hand Superman seatgrab, Double Seatgrab, Rock Solid and Flinstone. With only one dead sailor in his run Frog gets 142 points from the judges.

Next out is Nick de Witt who charges into his first jump with a One Hand Indian Air, 9 O'clock nac, Cordova, 9 O'clock Indi, Cliffhanger, Shaolin, Whip, Hart Attack Indi, Dead Sailor and an Incredible Double Seatgrab for the last jump. He gets back on the bike after the double grab a few seconds to late and has difficulty breaking and ends up hitting the ice-hockey border, flies over the wall and disappears behind the barrier. The spectators hush in anticipation of a few broken bones, but Nick pops his head up with arms extended and the audience explodes into standing ovations and wild cheering. Nick takes 134 points for this crazy run.

Jamie Squibb is out next and starts with a 9 O'clock nac, Pendulum, Superman, No-Hand Landing, Seatgrab Indian, Dead Sailor, Superman with two Dead Sailors ending his run. 111 points go to Jamie who is not happy with his run and heads out to the pits shaking his head.

Newcomer to the international FMX scene, Freddy Peters from Germany is out next and rips into his first jump with a huge Cliffhanger, Lazyboy over the Red Bull Kicker, Flinstone, Sidewinder, One Hand Seatgrab, Pedulum, Airwalk to Heelclicker and a good Rock Solid. The underdog takes his run to the absolute limit and beyond and he can hardly believe it when the judges give him a massive 178 points for the incredible run.

Fredrik Johansson from Sweden heads out for his run opening with a 9 O'clock nac, Stripper, Dead Body, Indi to Heelclicker, Sidewinder Seatgrab Indi, Barhop to no foot cancan, a diver and a massive whip. A nice run with quick moves is honoured with 165 points from the judges.

Local hero and old school Freestyler Thamer Engeli from Switzerland is next out on the track and opens his run with a dead sailor, Seatgrab Indian, Shaolin, Whip, Kiss of Death, Flinstone, Barhop, Can Can, Dead Sailor and a Side winder Seatgrab. The two Dead sailors are going to hurt and he is out of the comp with 106 points landing him on last place in the qualifications.

Jimmy "Jimbo" Verburgh is next out and kicks-off his run with a Superman, Stripper, One Hand Superman Seatgrab Cordova, Sidewinder Seatgrab, Sterilzer landing, Whip and ending with a side-saddle landing. A total of 175 points go to this cool guy from Belgium.

Next up is "Who's your Daddy" Ronnie Renner from the states. He had already been struggling with the short distances during training and is not very positive going into his run. This great athlete who is normally pulling big airs over 25 meters is trying everything he can think of to pull his huge tricks over the small distances. It's a struggle and so Ronnie heads into his first jump with a dead sailor, continues with a Seatgrab Indi, Stripper, another Dead Sailor, Hart Attack, Tsunami, Whip and a Dead body. Ronnie is not a happy guy as he heads out of the arena with 146 points.

Kris Brock from team evil three in England is out next and hits his first jump with a massive whip and keeps it going with a Cliffhanger, Flinstone, McMetz, Double Grab, Shoe Box, Superman Indi and a Cliffhanger. Good stuff with great extensions gets him 181 points that should be enough to secure a position for the final six later in the evening.

Busty Wolter from Germany is out next starting with a Cliffhanger and continues on into a Lazyboy over the Red Bull Kicker, Whip, Kiss of Death, McMetz, Flinstone, Super Can, Sidewinder, Double Seatgrab and a huge Barhop. Busty is a highlight of the evening and the judges award him 207 points for his amazing run.

Mad Mike Jones is next out on the track and explodes with his signature Superman Hump and continues with a Superman to Heelclicker, Superman Seatgrab Whip, Heelclicker to No Hand Landing over the Red Bull Kicker, Side Saddle Landing, Lazyboy, One Hand Seatgrab and a massive Whip. 164 points go to Mike.

Three riders are left for the qualifications. Ailo Gaup takes to the track and is having a bad day with a small fever and isn't in top form. He starts his run with a dead sailor and heads into his second jump with another dead sailor! He somehow picks it up with a No Foot Can, Double Seatgrab Hart Attack, Tsunami, No-Hand Whip, Cliffhanger and Ballerina. 157 points go to Ailo.

Oystein Kjorstad is out next with a Tsunami, Cordova, Superman Indi, another Superman Indi, Hart Attack, Saran Wrap, One Hand Seatgrab Indi, Helicopter, Superman and ending with a sterilizer landing with small crash. The judges hand out 167 points for his great run.

Last out for the qualifications is Mathieu Rebeaud from Switzerland who is greeted with standing ovations from the charged crowd. Mathieu is geared to show the backflip to the crowd and so every jump he does is followed by an incredible screaming cheer from the spectators. He pulls a massive Stripper, One-Hand Seatgrab, Hart Attack, Tsunami, One Hand Grab, and the he lines up to the Red Bull Kicker and flips it as the audience go absolutely mental. 188 points go to Mathieu for this great run.


Results qualifications

1st Busty Wolter (Germany) 207 points
2nd Mathieu Rebeaud (Switzerland) 188 points
3rd Kris Brock (England) 181 points
4th Frederik Peters (Germany) 178 points
5th Jimmy Verburgh (Belgium) 175 points
6th Oystein Kjörstad (Norway) 167 points
7th Fredrik Johansson (Sweden) 165 points
8th Mike Jones (USA) 164 points
9th Ailo Gaup (Norway) 157 points
10th Ronnie Renner (USA) 146 points
11th Fredrik Berggren (Sweden) 142 points
12th Nick de Witt (South Africa) 134 points
13th Jamie Squibb (England) 111 points
14th Thamer Engeli (Switzerland) 106 points


Whip Contest:

1st Kris Brock (England) & Ronnie Renner (USA)
2nd Mike Jones (USA)
3rd Jimmy Verburgh (Belgium)


Highest AIR / Step-Up

1st Kris Brock (England) 9,70 meters
2nd Mathieu Rebeaud (Switzerland) 9,50 meters
3rd Mike Jones (USA) 8,50 meters (with crash landing and broken pinkie finger)


Finals Saturday Night:

Highlights:

Oystein Kjörstad:
Tsunami, Cordova, Superman Indi, Sidewinder Seatgrab, Hart Attack, Saran Wrap, One Hand Superman Seatgrab, Helicopter, Sidewinder Seatgrab, Sterilizer Landing.

Jimmy Verburgh:
Sidewinder Seatgrab, One-Hand Superman Seatgrab, Stripper, Superman Seatgrab-Whip, Cordova, Indian Air to Heelclicker, Barhop, Superman.

Freddy Peters
Cliffhanger, Pedulum Airwalk, Flinstone, Sidewinder Seatgrab, One Hand Seatgrab, Pedulum.

Kris Brock:
Whip, McMetz, Flinstone, Hart Attack (over the step up Kicker!), Cliffhanger, Double Seatgrab, Twitch

Mathieu Rebeaud:
Stripper, Tsunami, One Hand Seatgrab, Sidewinder Seatgrab,, No Foot Can Can, Backflip (crash)

Busty Wolter:
Cliffhanger, Lazyboy, Whip, Kiss of Death, McMetz, Flinstone, Indian Air, Sidewinder Seatgrab, Superman Seatgrab Barhop.


Results Finals:

1st Busty Wolter (Germany) 225 points
2nd Kris Brock (England) 210 points
3rd Oystein Kjörstad (Norway) 188 points
4th Frederik Peters (Germany) 179 points
5th Jimmy Verburgh (Belgium) 176 points
6th Mathieu Rebeaud (Switzerland) 165 points


Busty Wolter is such a happy guy that he takes the 10 liter bottle of Champaign and trys to pull the cork out and just can't get the thing off! He pulls and pushes and finaly smashes the neck on the ground which causes the bottle to explode sending shards of glass into his Arm and fingers that he has stiched up after the event.


Results from Sunday

Results qualifications

1st Ailo Gaup (Norway) 228 points
2nd Mathieu Rebeaud (Switzerland) 204 points
2nd Fredrik Johansson (Sweden) 204 points
4th Oystein Kjörstad (Norway) 201 points
5th Jimmy Verburgh (Belgium) 195 points
6th Ronnie Renner (USA) 183 points
7th Mike Jones (USA) 180 points
8th Kris Brock (England) 176 points
9th Thamer Engeli (Switzerland) 170 points
10th Fredrik Berggren (Sweden) 161 points
11th Jamie Squibb (England) 144 points
12th André Villa (Norway) 149 points
13th Nick de Witt (South Africa) 138 points


Whip Contest:

1st Ronnie Renner (USA)
2nd Kris Brock (England)
3rd Mike Jones (USA)


Highest AIR / Step-Up

1st Kris Brock (England) & Mathieu Rebeaud 8,70 meters


Results Finals:

1st Ailo Gaup (Norway) 232 points
2nd Fredrik Johansson (Sweden) 205 points
3rd Mathieu Rebeaud (Switzerland) 204 points
4th Jimmy Verburgh (Belgium) 186 points
5th Oystein Kjörstad (Norway) 185 points
6th Ronnie Renner (USA) 121 point

---------------------------------------------------------------------------
IFMXF Euro FMX News JUNE 04
Backflip mania as the Suzuki Freestyle Motocross World Championship premiers in Hamburg!

The best from the European and American Freestyle Series battle it out in Germany!

Ailo Gaup (NORWAY) takes fisrt place in Hamburg!
12 of the world's best riders converge on Hamburg for the highlight of the IFMXF season 2004. The contest promises to be an action packed and adrenalin charged event with big-names like living legend "Cowboy" Kenny Bartram from the US and current European ranking leader, Ailo Gaup from Norway attending to battle it out over the world champ title.

The powerful line-up is complemented with high flyers like Kris Brock from the UK, Oystein Kjörstad out of Norway, Mathieu Rebeaud from Switzerland and Fredrik Johansson from Sweden. Busty Wolter from Germany who recently took gold at the IFMXF comp in Bern, Switzerland last April is geared to use his hometown advantage and is surely a strong candidate for the finals. Also reappearing on the scene is Fabian Bauersachs from Germany who is celebrating a grand comeback after taking a six-month break due to injuries. Fabian was forced from 1st to 11th place in the IFMXF rankings since his injury and is back to hit the dirt and regain the momentum that he once had. The Americas are represented by IFMA big shots "Cowboy" Kenny Bartram, Adam Jones and Ronnie Renner from the USA as well as Jeff Fehr, the shooting star out of Canada. Jeff is in Hamburg to replace Derek Burlew who had to pull out only a few days before the contest because of a cracked tibia. Jimmy Verburgh completes the line-up to represent Belgium in his 4th year with the IFMXF.

One of the biggest events of the year in Europe, the SUZUKI Freestyle Motocross World Championship has pulled out all the stops to offer the 8.500 spectators a day that they are soon not to forget. A massive festival (LOUIS – Summer Bike Festival) kicked off the day in front of the Color Line Arena with 60 exhibition stands, show trucks and live bands as well as a Harley Davidson biker gathering and FMX demo-show getting every one in the mood for an extreme night of great freestyle. The venue is stocked to the roof with the finest in show lighting and pyrotechnics that seems to be geared more for an AC/DC concert than a freestyle contest. Babes from the world famous dollhouse from the "Reeperbahn" in downtown Hamburg are also set to offer the athletes that much needed encouragement to go to the limit and beyond.

Now to the event and the first qualification round of the evening with the 11 riders fighting to get into the six strong finals. German rider Busty Wolter has to pull out at the last minute because of a sprained ankle. A one and a half minute run is all these great athletes have to get those important points from the 5-stong panel of Judges. Head Judge, Jason Moriarty, from South Africa is sure to be biting at his nails to distribute the points fairly. Included in the qualification is the "Oakley best trick contest" that will have one lucky rider taking home the first trophy of the night.

The qualification round is packed with the best in FMX seen today. A highlight being the backflip from Ailo Gaup over 20 meters, which also at the same time is his premier at such a distance at a freestyle comp. This flip also earns the smooth rider from up north the Oakley best trick award.

The whip contest is battled-out between Ronnie Renner and Kris Brock both known for their great pancake whips and cool moves. Kris isn't up to snuff though and so Ronnie whips his way to first place taking the trophy.

Step up is next in line with the 4 riders all making it to 7,20m. Two riders have to call it quits while both Mathieu Rebeaud and Ronnie Renner stay in to battles it out. Mat from Switzerland takes the dirt jump a bit skewed and ends up crashing into the Step-up bars bending one of them in half. Step-Up is a draw and surely a spectacular ending to a great competition.

The final six are now set. And the battle is truly amazing. All the runs are packed with top-of-the-line FMX. Mathieu Rebeaud takes a surprise 2nd with his racing style around the track he has achieved two more jumps then the rest of the riders which in turn pushes his points ahead of the rest of the riders. In the end it just isn't enough for Mat to beat multiple gold winner Ailo Gaup from Norway out of pole position. Ailo again takes the long 20m-backflip jump and earns a well-deserved 283 points lending him the title "SUZUKI Freestyle MX World Champion". (Ailo is the only rider who flipped the long distance in Hamburg- long distance flipper and favourite for the evening win, Kenny Bartram seems to be struggling with his long break due to sustained injuries and only takes home 4th in the finals).

Oakley Best Trick:
Winner: Ailo Gaup

Results Qualifications:
1. Ailo Gaup Norway 183 points
2. Fredrik Johansson Sweden 176 points
3. Mathieu Rebeaud Switzerland 172 points
4. Kenny Bartram USA 163 points
5. Kris Brock England 161 points
6. Oystein Kjorstad Norway 156 points
7. Adam Jones USA 143 points
8. Ronnie Renner USA 136 points
9. Jimmy Verburgh Belgium 107 points
10. Jeff Fehr Canada 91 points
11. Fabian Bauersachs Germany 74 points

Results Whip contest:
1. R. Renner USA
2. Kris Brock England
3. Ailo Gaup Norway
4. F. JOhanson Sweden

Results Highest AIR (Step-UP):
1. R. Renner USA 7,40 m
1. Mat Rebeaud Schweiz 7,40 m
3. Kris Brock GBR 7,40 m
3. J. Verbourgh BEL 7,40 m

Results Finals:
1. Ailo Gaup Norway 283 Points (World Champion)
2. Mat Rebaud Switzerland 242 Points
3. F. Johanson Sweden 240 Points
4. Kenny Bartram USA 226 Points (best Qualif.)
5. Kris Brock England 226 Points
6. O. Kjörstadt Norway 150 Points

Press contact English results:
karsten@air-team.com

German Version:

SUZUKI IFMXF Freestyle World Championships

Ailo Gaup aus Norwegen gewann am 29.05. die erste Freestyle Motocross Weltmeisterschaft

Röhrende Motoren, Sprünge, welche die Fahrer bis unters Hallendach der Color Line Arena katapultierten und dazu der passende Sound. Das war das Gastspiel der International Freestyle Motorcross Federation (IFMXF) in der Hamburger Color Line Arena am vergangenem Samstag, dem 29. Mai.

8.500 Besucher kamen in die Color Line Arena, um den ersten Freestyle World Championship mit den besten 11 Freestyle Motocross-Fahrern aus der IFMXF (Europäischer Verband) und IFMA (Amerikanischer Verband) zu erleben.

Die Fahrer ermittelten in drei Disziplinen den Sieger und sprangen dabei bis zu 30m weit und 11m hoch. Großartige Sprünge mit freien Flügen neben dem Motorrad und Handstand auf dem Lenker waren keine Seltenheit, sogar der Rückwärtssalto (Backflip) wurde präsentiert und frenetisch von den Zuschauern gefeiert.

Nach drei Stunden Aktion- und Extremsportspektakel mit fettem Sound, unglaublicher Pyrotechnik und waghalsigen Flugmanövern Stand der Sieger und offizielle IFMXF World Champion fest. Mit 283 Punkte gewann Ailo Gaup aus Norwegen vor Mat Rebeaud aus der Schweiz und Johanson aus Schweden.

In einer weiteren Disziplin gewann Ronnie Renner aus den USA und Mat Rebeaud aus der Schweiz gemeinsam den Highest Air Contest (klassisch Hochsprung) mit übersprungenen 7,40 Metern, sitzend auf seiner 250 ccm Maschine. Das ganze bei nur einem Meter Anfahrt auf die Rampe.

In der dritten Disziplin, dem Whip Contest, konnte sich der Ronnie Renner aus den USA durchsetzen. Der deutsche Fabian Bauersachs schaffte es leider nicht in die Endrunde und Busty Wolter konnte aufgrund einer Verletzung nicht starten.

Vor der dreistündigen Show gab auf dem Vorplatz der Color Line Arena noch das Louis Summer Bike Festival mit vielen Ausstellern aus allen Ländern und der Braun-Bühne, auf der u.a. die Band Poolstar rockige Sounds aus Berlin den 10.000 Besuchern präsentierte.

SUZUKI IFMXF World Championships Hamburg 29.05.2004

Oakley Best Trick Gewinner: Ailo Gaup (Norwegen)

Ergebnisse Qualifikation:
1. Ailo Gaup Norwegen 183 points
2. Fredrik Johansson Schweden 176 points
3. Mathieu Rebeaud Schweiz 172 points
4. Kenny Bartram USA 163 points
5. Kris Brock England 161 points
6. Oystein Kjorstad Norwegen 156 points
7. Adam Jones USA 143 points
8. Ronnie Renner USA 136 points
9. Jimmy Verburgh Belgien 107 points
10. Jeff Fehr Kanada 91 points
11. Fabian Bauersachs Deutschland 74 points

Ergebnisse Finale:
1. Ailo Gaup Norwegen 283 Points (Neuer Weltmeister)
2. Mat Rebaud Schweiz 242 Points
3. F. Johanson Schweden 240 Points
4. Kenny Bartram USA 226 Points (best Qualif.)
5. Kris Brock GBR 226 Points
6. O. Kjörstadt Norwegen 150 Points

Ergebnisse Highest Air:
1. R. Renner USA 7,40 m
1. Mat Rebeaud Schweiz 7,40 m
3. Kris Brock GBR 7,40 m
3. J. Verbourgh BEL 7,40 m

Ergebnisse Whip Contest:
1. R. Renner USA
2. Kris Brock GBR
3. Ailo Gaup NOR
4. F. JOhanson SWE

---------------------------------------------------------------------------
IFMXF Euro FMX News JULY 04
Backflip mania at the A1-NIGHT of the JUMPs in Vienna!

World class FMX rocks Austria on the 27th and 28th of March!

Saturday:
For the second consecutive year Vienna hosts Europe's oldest running and most successful indoor Freestyle Motocross (FMX) series, the NIGHT of the JUMPs on two days before a sold out audience of 17.000 crazy fans. 15 of the world's best riders converge to battle it out and present the best in FMX seen today on the planet.

Included in this amazing line-up are the likes of high-flyer and IFMXF World Ranking leader Ailo Gaup from Norway and old-school legend "Mad" Mike Jones from the United States. Both riders had taken home gold at the two-day event last year and are back to prove their style and talent to the five strong panel of judges. It's not going to be easy with other big names like Australian Metal Mulisha bad-ass Dayne Kinnaird and show-man "Who is your Daddy" Ronnie Renner from the states contending for pole position and IFMXF ranking points. With the rumour out that the European elite have been working on their backflips during the winter break, the tension is high as the sold out venue anticipate what may be about to come.

After the opening pyro and light show and the presentation of the riders, the audience is geared for an amazing night of adrenalin filled acrobatics and break neck moves. First out on the track is local hero Martin Schenk, who last year struggled on his 125ccm and is back on the 250 to show his stuff.

First out after Martin is living legend, "Mad" Mike Jones from the US to show Austria again that he's here to take home gold and put the rest of the riders behind him. Mike who is know for his great show doesn't disappoint the crowd and executes his classic "Heelclicker No-Hand Landing" among a wonderful "Superman Indian-AIR" and hard-core moves that Jones stamps with his unmistakeable style.

Next to hit the track is Nick Franklin, representing New Zealand who fills his run with an insane "Rock Solid" among other perfectly executed stunts and is definitely a rider to reckon with not only for the finals, but also in the coming years. His amazing run and perfectly extended tricks such as his "One-Hand Seatgrab Indian" put him at a solid 1st with 202 points.

Out next is Jimmy "Jimbo" Verburgh who with his classic style and cool moves starts out his run with a "Cordova" over the Red Bull Kicker and heads straight into crazy "Shaolin" and a great "Superman Seatgrab Whip". He's not happy with his run and it shows while he waits for the results taking home 105 points.

Switzerland's best and shooting star, Mathieu Rebeaud, is next out on the track, Rebeaud who shares the IFMXF-Highest AIR record of 11 meters with Benoit Milot has yet to take home gold in FMX in the series. Also rumoured to pull the backflip, the venue is set for the first flip in the evening festivities. With hushed anticipation 18.000 eyes follow as Mathieu lines-up
to the Red Bull Super-Kicker and- NO Mathieu doesn't feel up to it. Still his run is packed with perfect stunts; "Stripper, One-Handed-Superman Seatgrab, Tsunami, Hart-Attack-One-Hand and a extreme Hart-Attack Helicopter" The run is solid and the judges award him with 155 points. Will it be enough for the final six?

Oystein Kjörstad took to the track next. Oystein is known for his perfect seatgrab variations and usually pulls out all the stops in taking his run to the limit. Kjörstad, also recently a backflip candidate had to pull out the big gun if he was to have a chance of grabbing the pole position away from the other riders and under extreme pressure from the intense vibe in the
arena lines-up his Suzuki to the Red Bull Kicker and executes his first IFMXF backflip in front of frantic Austrian's pumped with flipping fever. The landing turns out a bit dodgy and so the cool Norwegian loses a few important seconds to kick his bike on and line-up for his next jump.

Combo-master and multiple IFMXF gold winner, Dayne Kinnaird from outback Australia is next out on the track and takes to the jumps like a bat out of hell. No one in freestyle today can match his moves and trick combinations that he throws out faster than most can follow. A few of his combinations don't even have real names and so he leaves the audience scratching their heads in stunned amazement at his incredible run.

Back in Austria again is US-Boy Ronnie Renner who premiered last year at the IFMXF World Cup in Salzburg. Ronnie had a great ride in Salzburg and is back in Austria on his new KTM to try and take home gold again at his second IFMXF contest. With his signature Tsunami and hard-core whips Ronnie goes up against the standard set down by the previous 7 riders.

Benoit Milot, an IFMXF rider from day one is back for his 4th season on the circuit and is next out. Known for his crazy whips and incredible talent, this cool guy out of snowy Canada is here to finally try and secure first place. Ben who in the past has clinched first in Highest-AIR and whip seems to be struggling with the distances of 21meters. Big-AIR is his style and
Ben always feels more comfortable jumping farther then most arenas in Europe will allow. With a perfect "Seatgrab Indian" and a hard core style Ben pushes it all the way, but on jump four his Honda bogs and he takes a bad spill and ends up limping from the track calling it a night.

Rider number 10 is Derek Burlew who starts his run with an incredible "Double Hart attack", "Hart Attack Indian" and keeps it going with a "Lazyboy", "Sidewinder Seatgrab" and a "One-Handed-Superman Indian AIR". A great performance that is sure to impress the judges. Derek takes the 174 points and his final slot with a happy wave to the crowd.

Norway's premier athlete Ailo Gaup is next out. Ailo who was the first European to risk the backflip under IFMXF contest conditions knows he has to show the crowd that he is not willing to give-up gold. As expected the Norwegian takes to the kicker and shows the crowd yet another backflip. By now the arena can barely contain the stampeding ovations of the sold out
audience. Ailo Gaup, hits the course showing his extreme "Nine O'clock Nacs" and perfect Rock Solid and Seatgrab tricks landing him behind Nick Franklin with 196 points.

Gary Taylor who just recently got his backflip down is rumoured to try the flip in Vienna and so the crowd hushes in anticipation of the big trick. Will he show it in the qualifications?! Gary took the turn to his first jump and the dead give-a-way slow approach brings the crowd in to a frenzy and YES! Taylor premiers with his first IFMXF backflip, however under-rotates and takes a nasty spill having to call it a night to go and find some ice for his face.

UK big-name and first generation rider, Kris Brock battles it out with a great run and stylish moves. Kris has been on the IFMXF circuit for the past three years and his experience shows with some great extensions and perfect execution. Kris throws out his signature "Shoe-Box" landing him on a solid 7th place only 4 short points from the final six.

Next up and final rider in the qualifications is one of Germany's best Freestylers Busty Wolter. Busty has been on the fast track for the past six months and his incredible dedication shows. After some training sessions up in Scandinavia where Busty has nailed the backflip, word has it that Wolter may try and premier with the flip in Vienna. A great run including a perfect
" Indian AIR", "Lazyboy" and "Hart Attack" is full of variation but without the flip. The amount of different tricks will give him some extra points from the judges and might just be enough for a slot in the finals.

Ovations follow and the crowd is set for the next segment of the evening. The whip contest is about to begin.


Results Qualifications

1st - Nick Franklin (New Zealand) - 202pts
2nd - Ailo Gaup (Norway) - 196pts
3rd - Dayne Kinnaird (Australia) - 193pts
4th - Ronnie Renner (USA) - 187pts
5th - Derek Burlew (USA) - 174pts
6th - Sebastian Wolter (Germany) - 173pts
7th - Kris Brock (England) - 169pts
8th - Mike Jones (USA) - 166pts
9th - Mathieu Rebeaud (Switzerland) - 155pts
10th - Oystein Kjorstad (Norway) - 120pts
11th - Jimmy Verburgh (Belgium) - 105pts
12th - Martin Schenk (Austria) - 66pts
13th - Benoit Milot (Canada) - 44pts
14th - Gary Taylor (England) - 19pts.

The whip contest hosts six of the evening's best whipping talents with great names like Renner and Jones, heading into the contest. Three groups of riders battle it out against each other leaving three of the best to fight it out in train formation for the whip final. Another four jumps later the winner, Ronnie Renner (USA), is decided and takes 1st with back-claps and a
cheering roar from the pumped spectators.


Results Whip

1st. - Ronnie Renner (USA)
2nd - Derek Burlew (USA)
3rd - Mike Jones (USA)


Intermission is to follow and while the Austrian's go off to fill up on bratwurst and beer, the six finalists head back to the pit to feverly scribble down their runs for the 1 ½ minute ride that is now just right around the corner. Stocked full of great riders, this final should prove to be a hard-fought battle between these extraordinary athletes.

One more segment is left for the night before the finalists can position themselves for a gold on day one of the A1-NIGHT of the JUMPs in Vienna. Highest-AIR is up and expectation is strong for the IFMXF Highest AIR Word Championship holder, Mathieu Rebeaud to finally take the title for his own (Benoit is out due to a hurt and swollen hand). Tension is high and so is
the bar. Starting at 5,80meters the bar is steadily moved further up. Burlew has to take leave not making the height of 7,30meters, while Renner and Rebeaud still battle it out. In the end Mathieu Rebeaud screams up to 7,90meters and grabs the title, but lands a bit off, washes out and hits his elbow. Later in the show Mathieu heads off to the hospital for some
stitches. Although the record is still standing the evening winner happily takes leave in the knowledge that he has proved his skill against such hard competition.

Now the venue is really about to explode as the six finalists gear-up and mentally prepare for their two minute runs. With more of the same witnessed in the qualifications seen in the finals, each rider takes his run to the limit. Highlights being the flip from Ailo, the "Holy Grab" from Nick Franklin and the perfect and technically exact run of Dayne Kinnaird ("Turn
Table, "Stripper", One-Hand Indian", "Tsunami", "Flinstone" and "Indian Air to Heelclicker". In the end all the finalists are winners to be able to make it in such a tight field of riders. But only one can take home IFMXF gold. And the winner is ................... Dayne Kinnaird! Celebrated with dancing babes and fireworks Dayne heads into the legendary IFMXF after show party to ride out his adrenalin until the show kicks off again and each rider takes their opportunity to grab gold for Sunday.


Results Finals

1st - Dayne Kinnaird (Australia) - 244pts
2nd - Ailo Gaup (Norway) - 240pts
3rd - Nick Franklin (New Zealand) - 237pts
4th - Ronnie Renner (USA) - 218pts
5th - Derek Burlew (USA) - 200pts
6th - Busty Wolter (Germany) - 186pts


Ailo Gaup takes revenge and Backflips his way to Gold on Sunday!

World class FMX rocks Austria on the 27th and 28th of March!

Sunday
Back for the second day of extreme acrobatics the riders are geared for another sold-out venue and big AIR at the A1-NIGHT of the JUMPs. Some riders are still struggling from the previous antics at the IFMXF after show party the night before and so a few are downing Red Bulls in the hope of gaining a little more energy for the contest to come.

Due to injuries both Matheau Rebeaud and Benoit Milot are not in the roster for Sunday. Gary Taylor is having problems with his bike and is trying to straighten out his machine that took some damage from the crash the night before. The damage is too extensive and he won't be able to ride. Backfliper Fredrik Johansson out of Sweden flew in for the Sunday event and should be a great addition to the line-up.

Again the venue is sold-out to standing room only. A lot of spectators who saw the amazing show on Saturday were back again to witness one of the best FMX events in Europe.

Wildcard rider Martin Schenk is out on the track first showing a great "One-Hand Seatgrab", "Flinstone to Saran Wrap" and "Turn-Table". Although his run is far better than the night before Martin will have difficulties getting into the finals.

Second in line is Jimmy "Jimbo" Verburgh who throws out a nice "Cordova" over the Red Bull Kicker and continues with a "Sidewinder Seatgrab", "Shaolin", "Superman Seatgrab Whip", "Stripper", "9 O'clock Nac to Heelclicker", "Hart Attack Indian", "Superman", "Seatgrab Indian" and ending with a classic "Whip". A solid run honoured with 151 points from the judges.

Ronnie Renner is out next. Starting with a killer "Whip". His run is extreme with highlights such as an amazing "Stripper" that seems to be frozen in time as he flies across the arena and his classic Tsunami. 201 points are awarded to "Who's your Daddy" Renner putting him in pole position.

Rider number four is Kris Brock who starts his run with a extreme "Superman" and keeps it going with a good "Flinstone", "Whip-No Foot Nac", "Nine O' Clock Nac" and "Cliffhanger". Kris struggles with two of his jumps though and rides two dead sailers that will punish him when it comes to his qualification points.

Next out is Oystein who amazed the crowd by flipping at the contest on Saturday. He rips on the track and the crowd just knows he'll try the flip again. The tension grows as he heads to the Red Bull Kicker and starts his run with the flip. He continues with a "Saran Wrap-Indian AIR", "9 O'clock Grab", Hart Attack", a "Cordova" over the Siemens Mobile Kicker and again
ending his run with the flip. 179 points go to Oystein for his great performance.

Triple 5 rider, Fredrik Johansson is out next. Johansson flew in on Sunday and had only 10 minutes of practice for this big event. His nervousness shows, but he still pulls some good stuff. Highlights being- "Shaolin", "Turn Down Whip", "Stripper" over the Siemens Mobile Kicker, "Sidewinder Grab" and his "Indian to Heelclicker. He's not happy with his run and heads
off the track with 155 points that he knows probably won't cut it for the finals.

Busty Wolter is next and he is geared to make it into the finals again for Sunday. He starts his run with a "Lazyboy" over the Red Bull Kicker and keeps it going with a fully extended "Bar Hop", "Indian-AIR", "One-Hand Seatgrab Indian", "Kiss of Death" and Cliffhanger. It's a solid run, but will it be strong enough for the final line-up?

Mike Jones is out next and starts out with a "Shoe Box-Fender Kiss", "Superman Hump", "Lazyboy", "Superman Indian", "Superman Seatgrab Whip" and "Heelclicker to No-Hand Landing". Mike goes to his last jump over the Siemens Mobile Kicker and tries the "Side Saddle Landing", but even in the air Mike is barely on the bike and crashes as he lands. He's all right though, but decides not to ride the finals.

Backflip European superstar, Ailo Gaup, heads out next. Ailo starts his round with the flip and goes on with "Rock Solid", "Cliffhanger", "9 O'Clock Nac", "Hart Attack Double Grab", "Cordova", another "Hart Attack Double Grab" and "Indian Air". Awarded 190 points from the judges, Ailo takes a solid 2nd and pulls into the finals.

Next up is Derek Burlew who pulls the "Lazyboy", "One-Handed Hart Attack", "Cliffhanger", "Hart Attack Double Grab", "Helicopter Hart Attack", "Rock Solid", "Whip" and "Side Winder Nac" Derek gets 170 points only one point behind Jones.

Rider number 11, Nick Franklin, heads out on the track with an amazing run including some great "Hart Attack" variations a classic "Tsunami" and perfect "Rock Solid". 170 points also go to Nick.

Last rider in the qualifications is the winner from the night before, Dayne Kinnaird out of Australia. This great rider hasn't been seen riding this good at IFMXF comps for just about a year now and it's nice to see the old Dayne back on his level. Some highlights of his run: "Turn-Table", "Stripper to Saran Wrap", "Indian to Heelclicker", "One-Handed Seatgrab-Indian",
"Flinstone", "Twich" and a perfect "Tsunami. 183 points go to Kinnaird. The finalists are set as the crew prepare for the whip contest.


Results Qualifications

1st Ronnie Renner (USA) 201 pts
2nd Ailo Gaup (USA) 190 pts
3rd Dayne Kinnaird (Australia) 183 pts
4th Oystein Kjorstad (Norway) 179 pts
5th Mike Jones (USA) 170 pts
5th Nick Franklin (New Zealand) 170 pts
7th Sebastian Wolter (Germany) 169 pts
7th Derek Burlew (USA) 169 pts
9th Fredrik Johansson (Sweden) 155 pts
10th Kris Brock (England) 152 pts
11th Jimmy Verburgh (Belgium) 151 pts
12th Martin Schenk (Austria) 104 pts
13th Gary Taylor (England) 0 pts


Results Whip

1st Kris Brock (England)
2nd Ronnie Renner (USA)
2nd Derek Burlew (USA)


Results Highest AIR

1st Jimmy Verburgh (Belgium) 7,40 meters
2nd Ronnie Renner (USA) 7,00 meters


Results Finals

1st Ailo Gaup (Norway) 283 pts
2nd Ronnie Renner (USA) 264 pts
3rd Nick Franklin (New Zealand) 259 pts
4th Dayne Kinnaird (Australia) 247 pts
5th Derek Burlew (USA) 227 pts
6th Sebastian Wolter (Germany) 219 pts
7th Oystein Kjorstad (Norway) 212 pts


Words by KJ

---------------------------------------------------------------------------
IFMXF Euro FMX News DECEMBER 04
PEPSI IFMXF WORLD CUP

December 4th 2004 / Windhoek / Namibia

With the PEPSI IFMXF World Cup the 2004 season have had a incredible final. 8000 Namibian spectators watched Saturday December 4th an awesome event in the National Rugby Stadium in Windhoek / Namibia.

AILO GAUP Norway makes the double he wins the Final round of the 2004 IFMXF World Cup and defends his Overall World Ranking leadership in 2004 with huge backflip combinations over the 22 m gap we leads with 55 points.

Sebastian Wolter / Ger (259 points) finished second with only 7 point in front of Oystein Kjorstadt / Nor. The final round was opened by Andre Villa who performed incredible during the two IFMXF World Cup rounds. Unluckily he take the wrong line after his 3rd jump so he wasn´t able two show all of his 12 final jumps.

Under the African sun Nick de Witt / RSA shows an incredible performance with 3 Backflips during his final run. Brian Foster / USA was able to make the final in this strong competition he finished with a 5th place. His fellow Mike Mason / USA didn't make it to the finals.

RED BULL´s very own Kris Brock showed up with a brand new haircut but wasn't able to perform on his normal standard. Fabian Bauersachs / Ger was again a bit unlucky in his awesome first qualifying was interrupted by strong winds and the following rain.

Please see below for results and photos or visit www.IFMXF.com


Pepsi IFMXF World CUP

1. Ailo Gaup Nor 314
2. Sebastian Wolter GER 259
3. Oystein Kjorstadt Nor 252
4. Nick de Witt RSA 247
5. Brian Foster USA 238
6. Andre Villa NOR 237
7. Brian Foster USA
8. Kris Brock GB
9. Fabian Bauersachs GER
10. Jimmy Verburgh BEL
11. Frederick Bergren SWE
12. Dayne Kinnaird AUS injured


Kalahari Sands Hotel Best WHIP

1. Mike Mason USA
2. Brian Foster USA
3. Sebastian Wolter GER


AIR NAMIBIA Highest AIR

1. Jimmy Verburgh BEL 6,4m 1st try
2. Mike Mason USA 6,4m 2nd try

---------------------------------------------------------------------------
Lings Honda - New Lowestoft Development
We are introducing a unique solus Honda Brand Centre to Lowestoft, Suffolk. The project will encompass every product produced by Honda. This concept is the first of its kind in Europe so will obviously be of massive national importance and interest.






We are introducing a unique solus Honda Brand Centre to Lowestoft, Suffolk. The project will encompass every product produced by Honda. This concept is the first of its kind in Europe so will obviously be of massive national importance and interest.






The multi million pound investment will be built to the highest specification. It will provide a new car showroom with a lounge and discussion areas where customers can obtain information on the full range of products and services provided. We are also going to house a large display section for quality pre owned cars.

The motorcycle showroom will cover some 5700 sq ft (525 sq m) for a massive selection of new and pre owned motorcycles. Honda Power Equipment and Marine will have their own showrooms with many additional features including a high quality café area providing views of the docks. Aftersales facilities will be catered for with state of the art workshops for all the Honda products.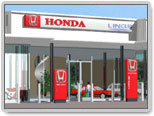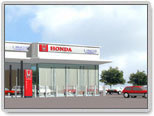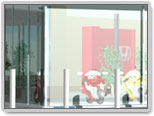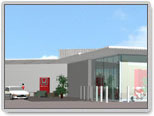 Externally our amazing new site will include the latest design features to provide a modern and attractive building that will project the aspirations of PFK Ling and Honda.

We want the Honda Brand Centre to provide a major step forward in excellence in service to our customers for all aspects of their motoring and power equipment retailing.






We aim to have phase 1 completed by August 2004 which will house a new car showroom with service facilities. Phase 2, the completion of the site is due to be launched January 2005.

Below are the 2 latest shots from our on-site webcam showing progress of the development, click here for more webcam images.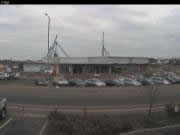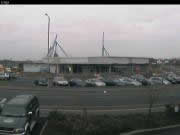 ---------------------------------------------------------------------------
Mini Bikes
This is Dan Whitby's fully kitted out CRF50.
Thanks to Thristan at Minibikepro for looking after us with all the trick bits.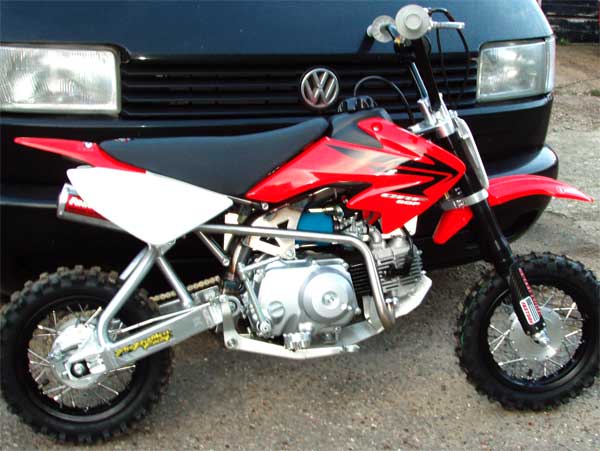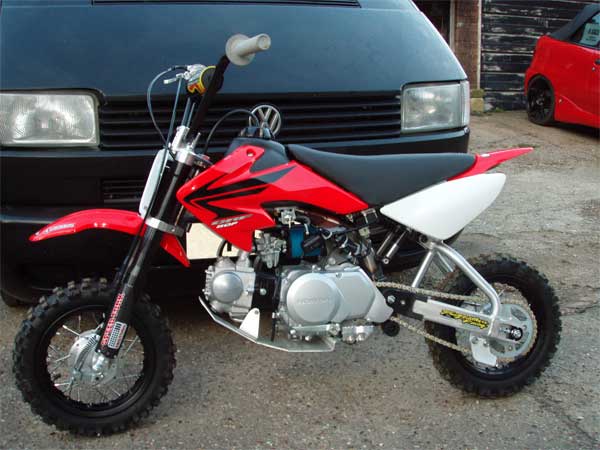 ---------------------------------------------------------------------------
Mountain Bike News - April 06 Racing News
Event: Gorrick MBC Spring Series XC Racing
Location: Frith Hill Deepcut Surrey 02 April 06
This was my 2nd mountain bike event ever, the 1st being being Trailtrax event, which is a Navigation Competition over 2 or 3 hours at Normandy in Surrey, I did 3 hours (I thought before hand a bit crazy as my first competitive event) but did not care when I found out my result, the aim was to get as many checkpoints (CP's) as possible in 3 hours over a large distance and well spread out CP's, overall it was a good days ride which I started at 0900 and finished 1200 with a few mistakes made with my route (don't do to much XC) the trick is go on the road for the speed out of 15 riders in my class I finished 5th which aint to bad but there is room for Improvement.
Event: Frith Hill Surrey Rnd 4 Gorrick Spring Series
The day started with registration at 0830 and then followed by a ride to get used to the track before the race itself, which was 4.5 miles a lap, which I decided later, that I got there 2 early as my race did not start until 1150, as I was done by 0930 (which was the fun race), thought better enter this one until I can gauge which class to enter on my final place and ability.
Race time at last, I lined up fairly close to the front, the Air Horn went off to start the race, and we were all off it was crazy, people and bikes everywhere a bit like MX start, if you get a good start up the front, and don't crash into someone or get get crashed into your going to be ok as it is hard to pass unless you crash or make a mistake, which I made a few and had a couple of Mister Meanas in the bushes!!
The first lap was not too bad it was rather slippy and muddy due to the rain which made it harder, at times my lungs had a good work out!! just before completion of the first lap I had some problems with staying on the course, and ended up in a bush, and about 10 riders came past me, I thought oh well get on with it, and got going again, as I past the Start Finish Line I heard my name being called out Si Panter 20th I thought not bad as I have crashed.
Lap 2, I thought lets not crash this time and try and catch up to the front. Pretty much the same as the first lap had some good sections and some poor ones, after another slight mishap with only 2 riders coming past this time, which I managed to get a place back this time.
After a few more slips here and there I managed to finish 21st out off 65 riders over a 9 mile cross country course XC which I thought was not to bad for my 1st time, still room for improvement like not
falling off, and buying some pedal clips so my feet do not come off the pedals so much.
Overall a good day out with a good course with plenty of ups and downs and single tracks hard to pass, and fire tracks easy to pass and get speed up with some tricky areas here and there. Great stuff!!!!!!!!!!!!!!
Anyway, thats all for now,
Si Panter

---------------------------------------------------------------------------
Mountain Bike News - May 06 Racing News
GORRICK SPRING SERIES RND 5 PORRIDGEPOT HILL
Here we are for the final round of the Gorrick spring series at porridgepot Hill Deepcut. The day started out bright but later turned to a rain soaked day which made the course rather muddy in places, which made the going difficult in places.
1155hrs was the start time for the Fun men race 41 taking part, with sound of the starting horn we set of on the start straight to the tight hairpin, with no problems having a good start I was off at a good pace trying to get some overtaking done as would be difficult later on due to the singletrack.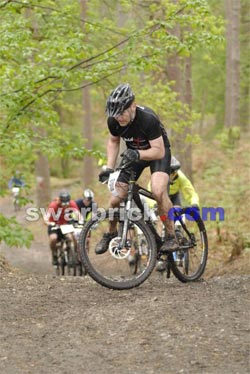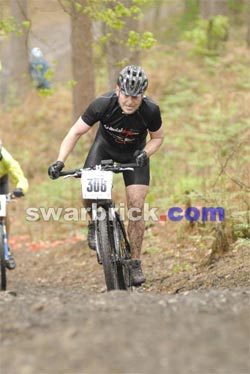 The first decent was fast and furious with some tricky bumps to catch you out at the bottom before the first uphill climb, no problem.
The rain was pouring now and making the course nice and slippy, which I found out on a long sloping left hand corner, going to fast my front wheel slipped out from under me and down I went sliding along for the first of 3 slip ups this corner caught me out again on lap 2 somehow!!
After a few uphills made tricky by the rain and some tight singletrack that was the first lap done with a couple of place lost due to the minor mishaps.
I started the 2nd lap as I started the 1st, 2nd time round the 1st decent nearly caught me out, almost in the bushes!! I thought how did I stay on. The track was now more difficult than the 1st with the rain still coming down and getting hacked up more by the amount of riders throughout the day.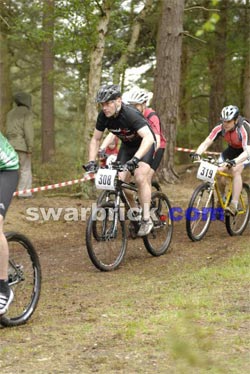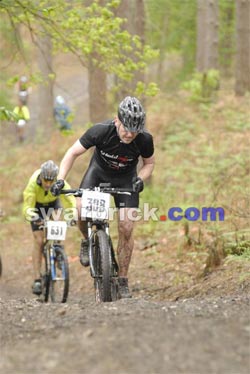 Having fun until I get to a tricky drop with a couple of extra lips further on down, had no bother from this on my pre ride lap or my 1st lap but somehow it caught me out this time good and proper. Down I go cautious got past what I thought was the difficult part no worries then all of a sudden up comes my back wheel over the handlebars I go face first into the ground a speed, ouch that hurt, I lay there for a bit and crack on no damage to bike but a little to my pride, a few cuts and grazes and a good one on the bridge of the nose.
I set off at a more cautious pace and just want to finish in good order, I was passed by 3 riders on this lap and finished 11th overall so not a bad day out.
Now with head ache sore nose and a couple of bent bits on my bike.
Good One
Si Pants

---------------------------------------------------------------------------
Mountain Bike News - June 06 Racing News
RATZ RAMPAGE RND 2 010606

June started with a race at the Reading all Terrain Mountain Bike Club Course at Checkendon, well that was the venue and the time was 1915 Start of the Club/Fun Race.

The course was 1.5 mile in length with plenty of twists and turns in a flat wood, the idea was race for 50 mins then on a ring of the bell + 1 lap. The start was fast and furious as usual on route to wood where the course was situated the first lap was around 12-13 mins and then around 7 min. I enjoyed this course as it was a bit technical with plenty of twists and turns which I get on with, there was a nice little jump for a bit of "Air time" in the lap.

In the time allotted I managed to do 8 Laps and came 1st in the Fun Class, not bad.

Bring on Round 3


SOUTHERN XC RND 3 CROW HILL RINGWOOD 180606

The day began with great promise, nice and sunny and a good days racing ahead. I had entered the Open Cat Combined services, where you race together with civilian and military Personnel. The venue was set in the New Forest at Crow Hill, a good turn out for the day ahead, so of I went collected my race number 702, got my bike ready donned my race kit and of I went to Pre-ride the course.

The start was uphill to the spectator area the left downhill through the woods twisting and turning through the woods along singletrack and fire roads and tracks with small and large bombholes,birms and some twisty uphill. I enjoyed my Pre-ride checking out the drop-offs, etc. and was looking forward to the race as I liked the course, bring on the race I thought.

The race itself started at 1310hrs and it was and warm, plenty of water taken on with an energy gel for good measure. 10 sec warning and then the horn went of we up the start straight to the top of the hill, got a good start in the top 5 stay here I thought, through the woods downhill at the bottom there was a small bombhole put the brakes on prepared my gears for the uphill to get out and my chain comes off and gets stuck!! AAAHHHHH!! get off sort it out, losing places fast, sorted off I go again for a few pedals then my legs went round mega fast, chain off again I thought I look back and DISASTER my chain had somehow Snapped!!

I have my tantrum pick up my bike and chain head back to the car and off home pi~#ed off !!

Then I go and see my trusty Bike Shop Atomic Bike Co In Aldershot who puts it right with new chain and large crank good ole Martin, what would I do without that great support, never a problem, I bet they hate the sight of me sometime!! Te He.

Next Ratz Rampage Rnd 3
Si Panter

---------------------------------------------------------------------------
July 06 Racing News From Si:

After coming out of some forest and down a fire road the first of 3 feed stations some 30K from the start, was on a corner so I thought I would have a quick stop for some High 5 energy drink and a banana, welcome off I set uphill again and off into the Blazing Sunshine which was hard work in my BLACK Army top.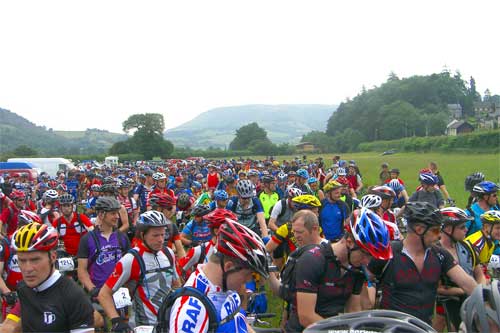 After a few moore K's and Uphill feed station 2 had a quick stop for the same nothing much as I new another feed station was on route at some point, it was into the afternoon now and even Hotter 93f at one point, but on I went, water consumption was up and my levels of energy and water down, I was now on the Final 3rd of the 100K course and Cramp sets in what can I do nothing but walk as every time I go to ride my bike it comes back again so I had a few miles of walking and taking it steady as I now was almost out of water and there was plenty more K's to go.
Out of water! time to think and take it slow as now I was not feeling to great due to the heat and lack of water so at every uphill I walked to conserve energy, I saw a rocky outcrop ahead with some shade, so I got under that and had a rest for about 15mins to recover and try and eat an energy bar which took effort. Felt better of I went with som very welcome downhill and off onto a road to the last Feed staion.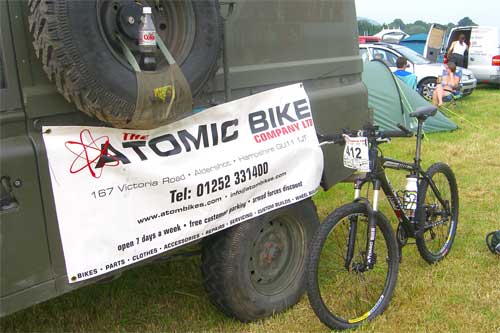 What a welcome sight the feed station was and it was by a river, first fil up with water and energy both Camelbak and me then it was off into the River to cool down Bliss!!!
At this point there was 14 miles to go with 8 of them uphill! and alot of people were turning round and heading back along one of the many escape routes, I thought about it, but thought I have got this far I am going to finish it!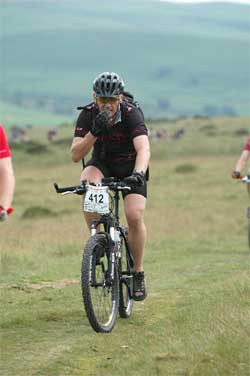 So of I went fully watered and felling alot better uphill we go but it was nice to get to top with the views and what little breeze there was, it was time to go down and what a fast long stretch that was at the bottom my brake were red hot discolored and pinking! onto a road that was welcome and easy riding then I saw a sign with Builth Wells 1 1/2 Miles lovely got to the end and I done 100K at my first attempt and what a beast it was to at times did not think i was going to make it but I did and I got the T-shirt.Oh and a black eye from a tree in the woods cheers!!!!
Si Panter

---------------------------------------------------------------------------
IFMXF PRO Tour 2003
The IFMXF PRO Tour and the Bolddog Lings Team celebrate an extreme premier in the UK!

The IFMXF in conjunction with the Bolddog Lings Team premiered at NASS in England on Saturday the 19th of July, with the best FMX Riders Europe has to offer.

The IFMXF and it's contract riders converged on the Royal Bath and West Show grounds for the National Adventure Sports Show last weekend in Somerset, in Shepton Mallet. The second round of NASS was packed full of the best of "who is who" in the European FMX scene. With riders such as the recent "Night of the jumps" gold winner Ailo Gaup (NOR) or Sweden's Fredrik Johansson (2nd in the IFMXF World Cup in Salzburg, Austria-2003), As well as big names like Thamer Engeli (SUI) and England's own Kris Brock and Gary Taylor. The IFMXF PRO Contest presented two days of extreme air and hard-core freestyle action to the 20.000 strong crowd.

13 Freestylers from around Europe battled it out over a two heat qualification and 6.500 Euro's in prize money, with the 6 strongest riders making it into the finals on Saturday night. Special guest- BMX super star Matt Hoffman gave the honor and took a seat to judge the event.

An added bonus for the IFMXF was the integration of the amazing Freestyle Motocross Landing Ramp, courtesy of Bolddog Lings FMX. The ramp combines the best in technology and safety, and supplied the perfect backbone for one of the best contests in England to date.

Karsten Junghans from the IFMXF – "I am stoked at how the contest went and am honored to have been able to present the IFMXF and its riders to the English public. Rarely have I seen such excitement from a crowd anywhere and will definitely be back with an even bigger show next year!"



Results / Qualification Round – IFMXF PRO Tour @ NASS 2003
1st
Gary Taylor (England)
187 points
2nd
Ailo Gaup (Norway)
185 points
3rd
Kris Brock (England)
183 points
4th
Oystein Kjorstad (Norway)
166 points
5th
Jamie Squibb (England)
164 points
6th
Frederik Johansson (Norway)
161 points
7th
Thamer Engeli (Switzerland)
155 points
8th
Chris Birch (England)
154 points
9th
Kuno Berner (Switzerland)
124 points
10th
Frazer Swanson (England)
122 points
11th
Steve Cousins (England)
120 points
12th
Ashley Davies (England)
111 points
13th
Gary Norman (England)
109 points
Results / Final Round – IFMXF PRO Tour @ NASS 2003
1st
Kris Brock (England)
287 points
2nd
Gary Taylor (England)
283 points
3rd
Oystein Kjorstad (Norway)
258 points
4th
Ailo Gaup (Norway)
254 points
5th
Jamie Squibb (England)
247 points
6th
Frederik Johansson (Norway)
228 points
Results / Best Whip & Sick Trick contests
Winner of both contests:
Gary Taylor (England)
---------------------------------------------------------------------------
IFMXF PRO Tour 2004
Chris Birch with a Wild Indian Air at NASS 04. Other riders included Busty Wolter, Jimmy Verburgh, Gary Taylor, Jamie Squibb, Dave Wiggins, and Baz Wilson.

Gary Taylor put in an excellent run to take the NASS 04 title.

Baz on his way to winning the Sick Trick comp with a sterilizer.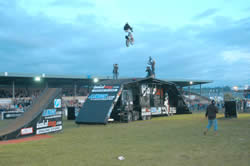 A streaker invaded the arena!!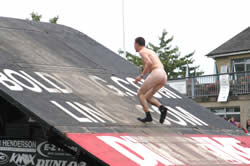 ---------------------------------------------------------------------------
Ripcurl Boardmasters
For the first time ever the Bolddog Lings Team took their landing system onto the beach. Newquay was left speechless!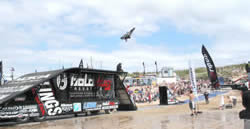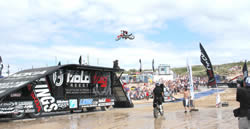 Riders included; Chris Brock, Chris Birch, Dave Wiggins, Luke Smith and Sean Vukovic.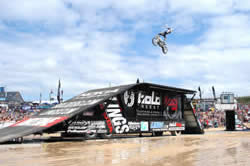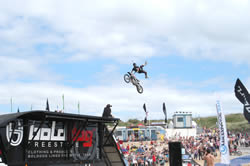 ---------------------------------------------------------------------------
Road Racing
One of the Bolddog Lings Team's tours during 2004 was over to the Isle of Man TT, and what an eye opening experience it was. Not only were we there to perform our Freestyle Show, but the team was there to support friend of the team Paul Owen.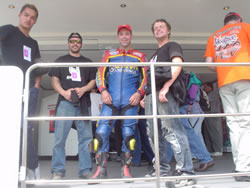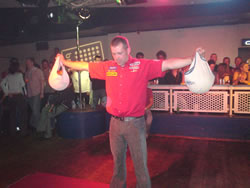 Paul had a very successful weekend, but these photos best describe how he must have felt after competing and surviving in the world's most prestigious and dangerous road racing event.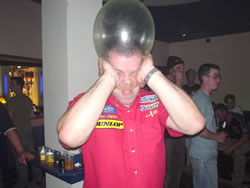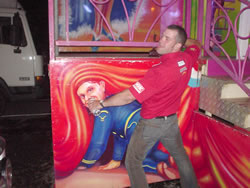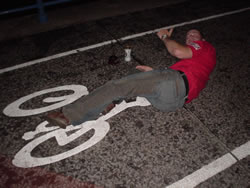 ---------------------------------------------------------------------------
Snow
Ex Bolddog Lings Team Super Star, now international play boy and snow boarder, travelled the world and ends up in Mayrhofen Austria, the play boy town of the Alps.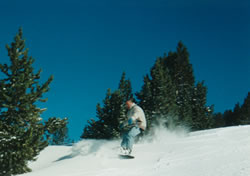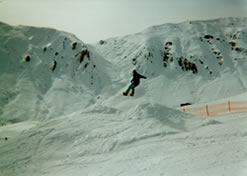 Still learning the half pipes and kicker jumps on his snow board at the snow parks, spends most of his time in the bars........!!!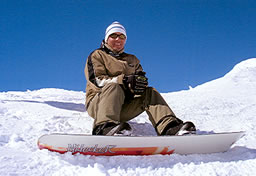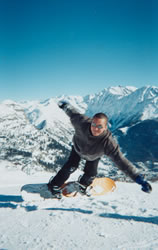 ---------------------------------------------------------------------------
Supermoto
Supermoto is a mix of motocross and road racing, the bikes are basically motocross bikes with modifications such as wheels and breaks.

The grin factor of Supermoto came about in the late 90s when people were riding the fast superbikes on the road. Some people soon realised the consequences of riding fast on the roads, not only the danger factors but also those damn gatsos!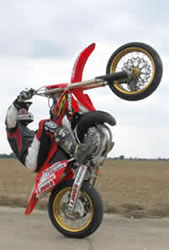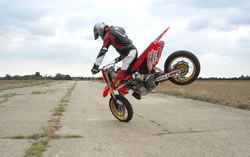 Supermoto is a cheaper sport to access for the rider wanting to push his bike to the limits on tarmac, and also the dirt.

We currently have no Supermoto racers in the team, but if you have a story you want to share with us send it in!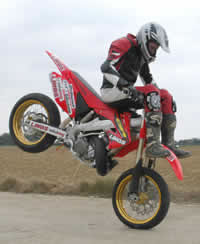 ---------------------------------------------------------------------------
Bolddog Surf - By Shaun Brundle
As an extreme sports company, we will be covering all the up to date news and changes to your favourite sport of surfing.

We will be featuring photos, talking to local surfers about themselves and their thoughts on how the surf sport has changed over the years and their views about the coast line where they surf.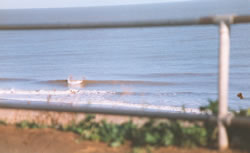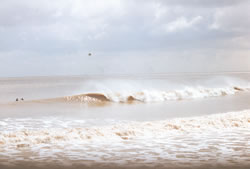 I have 15 years experience surfing in the South East Region, and as the Bolddog Extreme Sports Company was born here, this is where we will start….

Here are some shots of my favourite breaks, I will be adding more information regularly, adding to what condition the breaks work best and talking to guys and girls who surf them.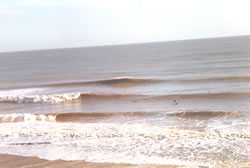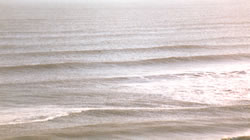 ---------------------------------------------------------------------------
Urban Games
Jamie Squibb riding at Urban Games. Chris Brock took the honours from a good line-up including, Squibb, Luke Smith, Chris Birch and Dave Wiggins.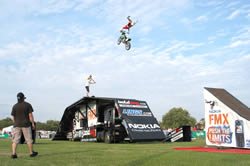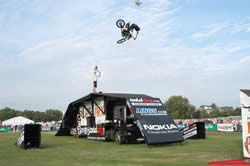 ---------------------------------------------------------------------------