News Archive
NEWS ARCHIVE 2013 - 2014
PRE SUMMER SEASON UPDATE 2014
It's been a mad one for us straight out of the gate this year, with loads of great stuff happening on and off the bikes. To summarise the start of the show season so far, Samson has an update for you in his own words:
"So we started things off early this year with rounds 1 & 2 of the 2014 Arenacross tour organised by E22, which kicked off in Belfast for 2 nights on the 17th & 18th of January. Not only did we have the rigid landing system out on hire but we also had 2 of Bolddog's heavy hitters riding at each stop of the tour, Dan Whitby and (Myself) Samson Eaton both got the call to join an all-star FMX team to wow the crowds at each stop. Other riders we rode with were the likes of Jamie Squibb, Dave Wiggins and XGAMES Gold medallist, Edgar Torronteras. The 2 night stop in Northern Ireland was off the meat rack both nights, sold out crowds headed to the Odyssey Arena to watch an action packed 3 hour show of racing and Freestyle Motocross.
We then headed to the infamous LG Arena in Birmingham for round 3, which was the following weekend. Likewise for the first stop on the tour, Birmingham's motocross fans were treated to another night of awesomeness with both the racing and Freestyle Motocross going through the roof.
We then trucked our way up to Merseyside for round 4 of Arenacross. The venue this time, the awesome Echo Arena, arriving a couple of days early we were asked to do a promo demo outside John Lewis in Liverpool's "Liverpool One" shopping precinct. This time all 3 Bolddog pilots were in action so the fun loving unit that is Arran Powley joined his homies Dan and me to throw down 4 x FMX demos to promote the main event on Sunday the 2nd of February.
After leaving a sold out Sunday afternoon show we came home to rest up for 2 days (I know right) we then dragged ourselves all the way up north to the Metro Radio Arena in sunny Newcastle for round 5 of the tour, Another Sunday afternoon show on the 9th of February rolled into an arena and perhaps a city that had never witnessed the awesomeness of Motocross and Freestyle Motocross. With that said it absolutely went off the charts with noise and I truly believe they had an afternoon they will never forget.
With round 5 in the bag we then headed ourselves to the arena where Freestyle Motocross was first properly introduced into this country back in the day in 2001, at the Motorpoint Arena in Sheffield. It was back to a Saturday night show for round 6 on 15th of February. We threw down probably the best show of the whole tour, the crowd is always loud in Sheffield and they didn't disappoint this time that's for sure.
After round 6 we then thought we had a weekend off but we were mistaken, All 3 of us were once again called up to do a promo demo outside the iconic Wembley Stadium for the 7th and final round of Arenacross which would roll in the weekend after. So Dan, Myself and Arran suited up once again for an all-day FMX spectacular which was free for any straying public that was walking by.
After this demo we then had to pack down all of the gear and truck ourselves back up to Liverpool to reunite with our very good friends at Top Gear Live. The BBC had an event on in the Echo Arena called BBC showcase, I won't go into too much detail but basically Top Gear were asked to show off some of the stuff they get up in a very small performing area, so they thought what better way than to showcase off the Top Gear Live team. Dan, Myself and Arran were not asked to jump this time though, but we were asked once again to suit up into the flaming suits used previously in 2012, It all went fantastically well and we spent 2 days riding around on fire, a nice change from the weekend to weekend routine we had now grown used to.
Now after we returned from Liverpool it was then time for the final show of the 2014 Arenacross tour and what other way to go out in style than doing it at the iconic Wembley Arena. Now for this final show there was a change up in the FMX rider list, 2 new riders hit the roster for the final show, Czech shredder Peter Pilat joined up with Myself, Jamie, Dave and Edgar. That was the 1st change but the 2nd was in house with us here at Bolddog, Arran Powley was called up to fill the boots of FMX Team manager Dan Whitby, As he was called up to head to India to star in a Bollywood Blockbuster as a motorcycle stunt double. The final arenacross FMX show was none other than mental, everyone threw down their biggest tricks and it really did show as the crowd at the final round on Saturday 1st of March went ballistic and loved it. With that said that was the 2014 Arenacross tour done and dusted!
Thank you all again for your continued support, and hopefully we'll see you throughout 2014 sometime."

CAMRIDER OPEN DAY AT LINGS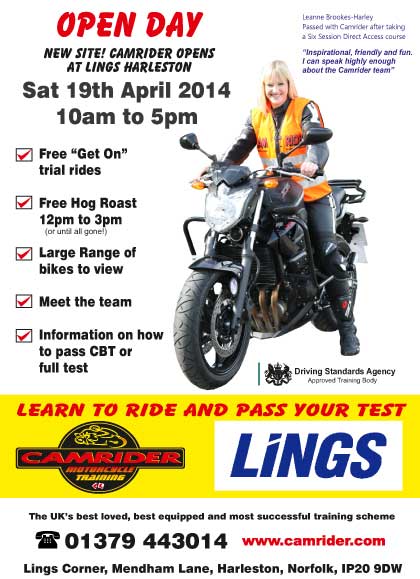 AUTUMN UPDATE 2013
Hello Everyone...

We hope that all is well and business is good. We are now coming to the end of what's been an extremely busy summer season, with riders Dan, Samson, Ron and Ryan spending most of the summer living on a showground. In Samson's own words, here is our latest update:
"What a summer season we have had, mad, mental and fun doesn't even begin to describe how busy we have been since our last update. There isn't many places we haven't been this summer, the miles have racked up, the double outings of both mobile landing systems has racked up and Andy's grey hairs have also racked up as we have been flat out all over the country. Starting after the Northumberland County show earlier in the summer, we have been booked out every weekend and midweek where possible, performing at awesome shows such as the Wilton Classic Super Car Show, The Red Bull Pro Nationals, the Goodwood Festival of Speed and the five day long Great Dorset Steam Fair to name just a few.
We also have recently completed a six week deal performing in a stunt show every Thursday evening at Great Yarmouth Stadium in between our already packed schedule. It really has been bonkers, the amount of miles covered and audiences reached in the last few months. To boot we have also been featured in one of the world's biggest selling men's mags known none other than FHM. We shared the August issue with Helen Flanagan in a feature on action sports cameras. The GoPro won hands down and would have anyway being one of our sponsors, but it's so cool to have a reminder that we have the best sponsors in the world and we cannot thank you all enough for the support you give us.
As we move to the tail end of the summer season, the last couple of Agricultural shows have just been completed over the last two weekends. Double booked for the first weekend the team split up to perform at the Moreton In Marsh show and the Orsett Agricultural Show, followed up by the Frome & District Cheese Festival the week after. By the time you read this we will all of flown out to Warsaw, Poland to take part in one of the best shows in the world, Top Gear Live. Just supplying riders and bikes this time, the team will join forces with the Monster Energy Masters Of Dirt guys to thrill and wow a packed out football stadium in one of the best petrol head, adrenaline junkie shows on the planet."
After the FMX team return from Poland, it's very likely there will be more bookings come along before the end of the year, including further film and TV work, which has also been very busy this year. The film and TV work has included a variety of work including a spectacular FMX opening sequence on a new documentary series.
Our street bike team have had their busiest year to date, being out every weekend, which has including Mark Van Driel (aka Vandal) finishing seventh in Vertical Trix World Street Bike Comp, and he's currently leading the UK Street bike Championships. Alongside him, with his riding partner Ash, the two have been busy at shows such as the London Motorcycle Show at Ally Pally, the Festival of 1000 Bikes at Mallory Park and this weekend coming, the street bike team will be at the Back Street Heroes Fighter Festival at Donnington Park. Also this summer, Vandal gained a Guinness world record, that will be announced later in the year.
The 2014 FMX Team event schedule is already starting to stack out for next year, kicking things off early next year with the bigger and better Arenacross tour.
Thank you all once gain for all of your support, we hope to see you all soon,
Kind regards from us all,
The Bolddog Lings FMX Team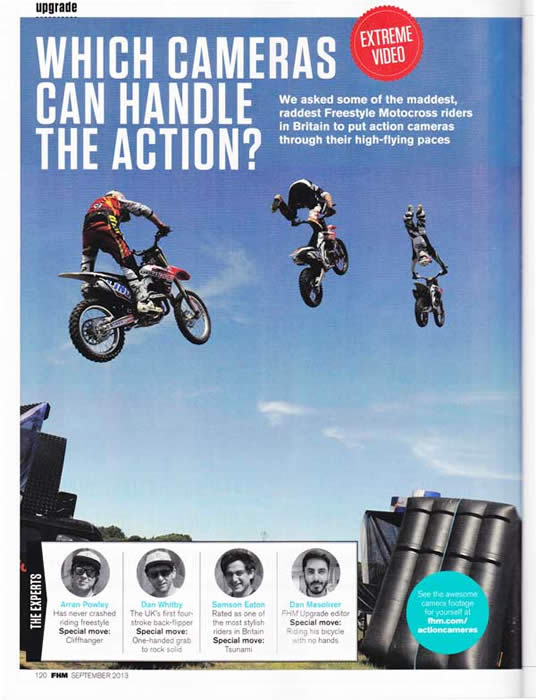 FHM Press Cutting 2013
photo shoot by julian dann with dan and his new 2013 crf450
The Bolddog Lings FMX Team official photographer, Julian Dann gave the team a visit recently to photograph Dan Whitby's new tricked up Honda CRF450R.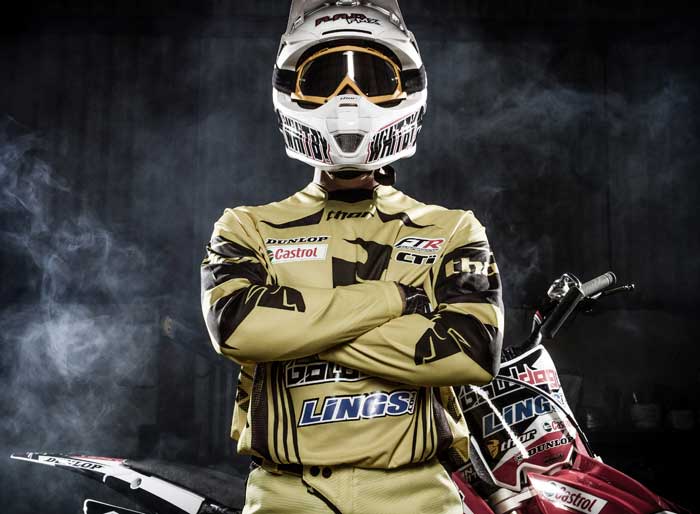 lings announce 2013 honda crf test day
If you are interested in trying the new 2013 CRF range, then please as shown on the poster below. The cost includes a days practice on your own bike and one session on one of the CRF motocross bikes.