News Archive
NEWS ARCHIVE 2011 - 2012
Lings Honda Test Day at Mildenhall 24th March 2012
The Buildbase Honda team made their way to the fabulous Mildenhall motocross track in Suffolk on Saturday to help and support Lings Honda with a motocross open test day.
Once again, potential customers, or just riders keen to see what they are missing, grabbed the opportunity to ride on the Buildbase team bikes, replicas of which can be bought in any Honda off road dealer. There was a steady stream of riders throughout the day and all seemed impressed with the package on offer.
John Court (Lings Customer) - "It was great to watch Aubin and Booker race around the Mildenhall track, then jump straight on their bike and "try" and do the same".
The sun shined for Lings all day, the track was excellent, the bikes were superb, the team worked well and the phone will hopefully be ringing with orders on Monday morning.
Round two of the Maxxis British Championship is being held at Canada Heights, Swanley in Kent this Sunday, it is sure to be a fantastic days racing and the whole team will be there in force.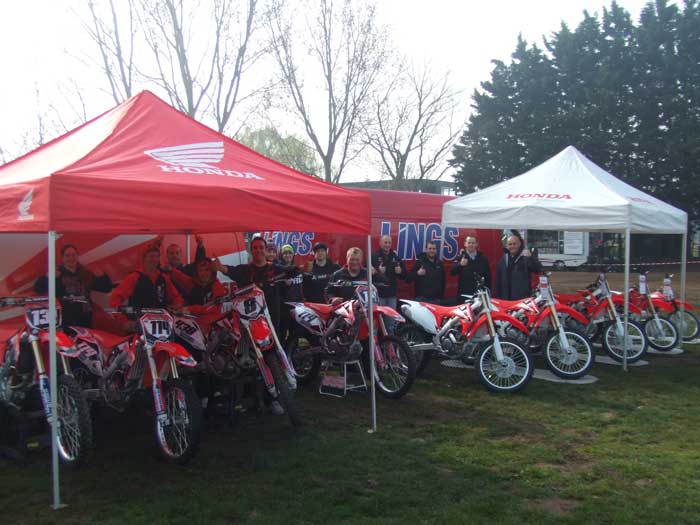 Bolddog's Official Sponsor, Lings Honoured by Honda
Locally-based, family owned car and motorcycle dealership Lings has been honoured by Honda this week with a specially commissioned award commemorating a unique 50-year association with Honda, presented by Honda UK Managing Director Dave Hodgetts.
Established in 1946 by Soichiro Honda, the Honda Motor Co Ltd. produced its first motorcycle to the Japanese market, the Dream D-type 2-stroke, in 1948, and by 1961 was looking to make its mark on the worldwide market, starting in Europe. Looking for a young, exciting dealer to take on the brand, Honda found exactly what they were looking for in Harleston, Norfolk, when they met David Jary.
Becoming one of the first British dealerships to bring the Honda brand to the UK market in 1961 was no easy decision for David Jary, then Managing Director of PFK Ling Ltd. At the time British manufacturers were the established names on British roads, offering a more traditional riding experience compared to the high-performance, sports-styled machines from the overseas manufacturer. Honda was more popularly known for its racing machines after victories at the Isle of Man TT, rather than the everyday road scooters and motorcycles Honda was selling in Japan.
This was to say nothing of the challenges inherent in bringing Japanese cars to the British market in the mid-60's – Lings was one of, if not the first, British dealership to stock Honda cars – but it was still something of a gamble by Mr. Jary, who felt passionately that UK customers would appreciate the sheer quality and reliability of the products on offer.
In hindsight of course, it was decision worth taking – 50 years later Honda cars and motorcycles of all shapes and sizes are commonplace on our roads and Lings, now run by Chris Jary, son of David, still enjoys an excellent relationship with Honda, stocking and selling all core Honda brands – Cars, Motorcycles and Power Equipment – from a group of dealerships based in Harleston, Lowestoft, Ipswich and Watton. Also stocking Honda marine, garden and energy products, as well as maintaining the largest Honda Genuine Parts warehouse in Europe, Lings is an exceptional operation in the UK and Europe, and possibly even the worldwide Honda dealer network.
Speaking on presentation of the award, Mr. Hodgetts said it was a 'privilege' to be able to offer his and Honda UK's congratulations personally to owners David and Ann Jary and Directors Chris Jary and Paul Barkshire, at Lings of Lowestoft, Europe's Largest Honda Brand Centre. After the presentation, Chris spoke of his pride in the co-operation between the two companies, and how he was looking forward to celebrating another fifty years with Honda.
'It is almost incredible that it has been fifty years since Lings first began selling Honda products' said Chris. 'We are always delighted by the fantastic support we receive from Honda, and the excellent quality of the products they continue to develop and manufacture. As a family owned and run business we are delighted to receive this one-of-a-kind award. We are immensely proud of our uniquely close working relationship with Honda UK and look forward to it enduring for many years to come.'
Lings dealerships can be found at Lowestoft (01502 537444), Harleston (01379 851090), Ipswich (01473 272789) and Watton (01953 881285), and online at www.lings.com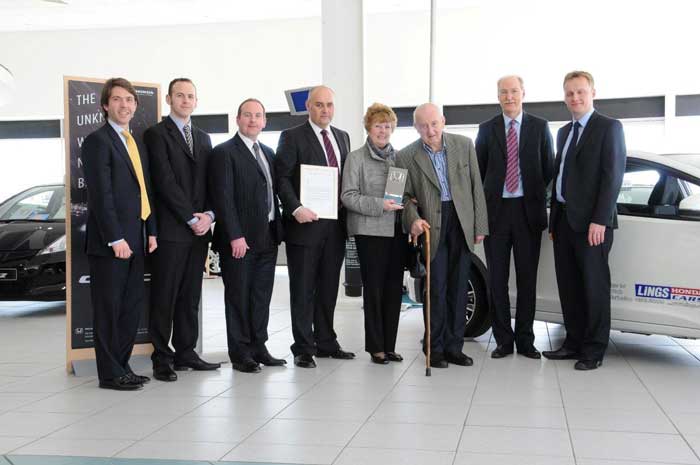 Bolddog Release Photos of 2011 Honda CRF 450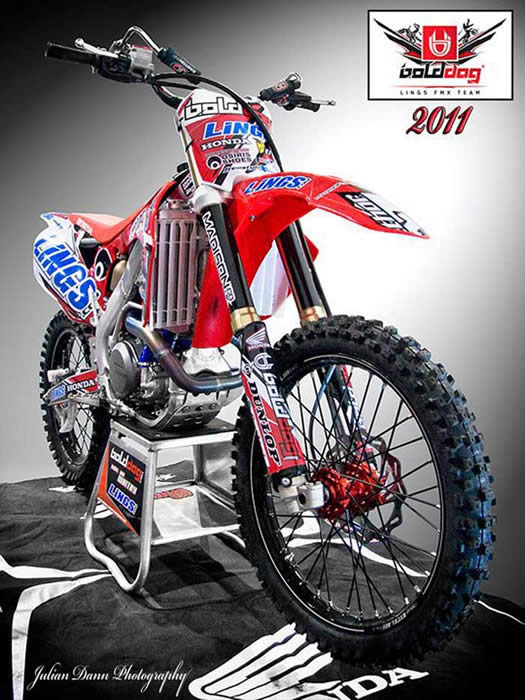 Bolddog Lings in the EXFMX Promo Stops at Amsterdam, Arnhem & Cardiff
At the beginning of March 2011, Bolddog re-branded their ramps to represent the EXFMX, promoting forcoming freestyle shows in the UK and Europe.
The Bolddog Lings Team riders, Dan Whitby and Samson Eaton rode alongside World IFMXF World Champion Libor Podmol, FMX star Remi Bizouard and the UK's Chris Birch.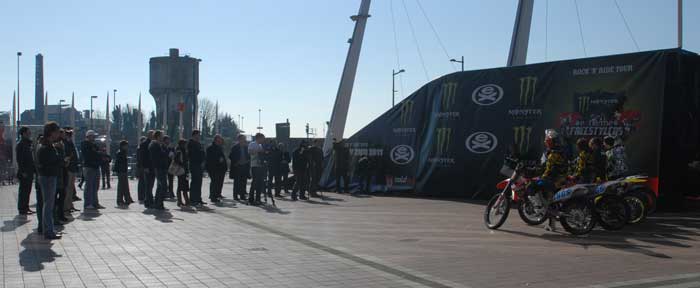 Bolddog FMX Championship Round Up 4th June 2011
Words by Mick Fenwick Photos by Julian Dann
On 4th June 2011, the UK took one step closer to its very own British Championship FMX series, with the first ever Bolddog FMX Championship, where Britain's top riders battled it out for the number one title.
First up were the Amateurs, taking their chances in what can only be called windy conditions. For a beginners section the guys didn't disappoint at all, with Jon Ritchie taking 1st place, Stuart Macey 2nd and Ryan Powley 3rd. All the riders showing promise for the future, guts and determination performing to such a large crowd.
Next up the Pro qualifiers, seeing Britain's finest go head to head for a place in the final five. The athletes wowed the crowd with the greatest display of FMX skills we've seen in the UK since Battersea, let me tell you judging was hard.
The trick list was extensive, John Pearson giving the crowd the first backflip of the night, and Danny Veale pulling off a text book Shaolin.
But after an awkward crash scuppered Dan Whitby's chances after what in my opinion had been the most exciting run of the night, the final five gladiators were chosen - Danny Veale, Samson Eaton, Dave Wiggins, Jamie Squibb and Chris Birch (Redbull X-Fighters).
After entertainment from Hanksy and the street bike freestyle team, fire breathing dancers, and Samson Eaton grabbing the best whip contest, it was crunch time…
The final five, each had only four attempts to prove their worth, with a gap of 80ft and two ramps to choose from. But with the wind getting stronger by the moment this wouldn't be an easy task for any of them. Every rider meant business, the stakes were high and so was the standard of riding. This was what we were all waiting for, it was so close, Kiss of Deaths, Lazy boys, huge whips, the guys had them dialled.
But after a smooth and stylish run from Dave Wiggins, a ridiculously gymnastic show from Jamie Squibb, and a huge back flipping performance from Chris Birch our winners were crowned. Congratulations to: 1st Official UK number 1, Chris "Sir Swampy" Birch, 2nd Jamie Squibb and 3rd Dave Wiggins.
The Bolddog FMX Championship has set the bar for the UK scene, with its superb organisation, awesome riders, entertainment, and a crowd which has been reported of up to 5,000 fans, this can only be the first of many events to come.
Words by Mick Fenwick Photos by Julian Dann
NEWS, MAY 2011 - Pro Judges Announced For FMX Championship
Bolddog are pleased to announce two of the professional judges that will be at the FMX Championship on 4th June 2011 -
Jason Moriarty
The 36 year old, born in Johannesburg South Africa is now a resident at Wimbledon, London. He currently is head judge for Red Bull Xfighters, and FIM World Championship, Nokia Air&Style, Masters of Dirt, IFMXF Night of the Jumps since 2002.
MX since 1988: Rookie of the year 1991, State 250cc MX champ 1995, 250cc Supercross Champ 1996, South Africa Team Manager 2009 MX of Nations
FMX since 1999: 4 step-up podiums including one victory on European tour, 1st Place Kenwood Best Trick 2004, 3rd SA championship 3 times, 2nd SA championship twice, 2nd Masters of Dirt Freeride Tour 2006
Interests : MX, FMX, Mountain biking, Snow boarding and Free riding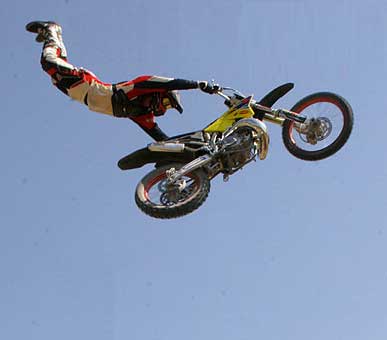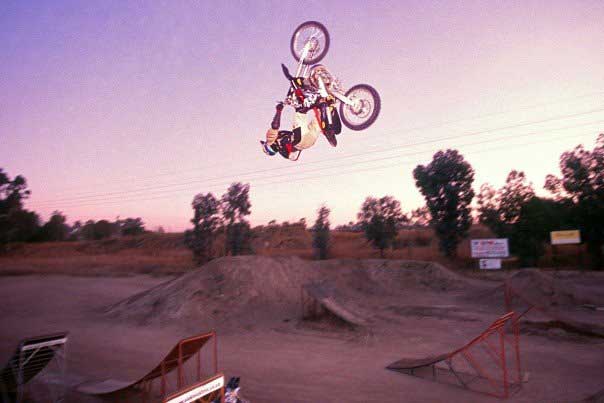 Mariarty - Hart Moriarty - Flip
Mick Fenwick
Mick's love for the extreme came from watching Evel Knievel as a kid in the 70s, so its no surprise that from the birth of freestyle over a decade ago, Mick was hooked.
Through his years of passion and dedication to spreading awareness of the sport, Mick was awarded FmxWorld member of the year in 2010,and this year was granted the title of UK reporter for the X-Fighters community, interviewing riders, featuring events and reporting all the action from the UK FMX scene.
Mick is also director of The Nitro Rangers charity project,providing support for struggling skate/BMX parks and helping underprivileged children get into action sports.
He is also head student of the official Shaolin Temple school Uk. So a well executed Shaolin flip might just get the riders the extra points they need to win this weekends championship.
Max Brown
Representing the Amateurs will be Max Brown from London, who has ridden and followed FMX for a number of years. He hopes to ride the comp at the next UK event, but for this one he is using his extensive FMX trick knowledge for judging.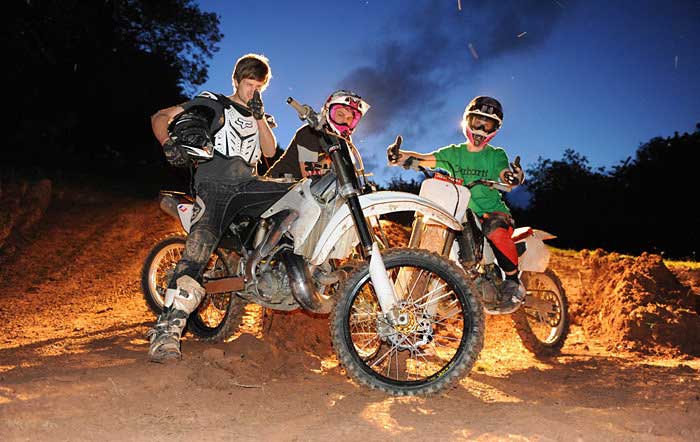 NEWS, MAY 2011 - ACU Encouragement For FMX Championship
ACU Chairman Brian Higgins had this to say about our FMX Championship event on Sat 4th June, "The ACU are quite encouraged about eventually engaging in this exciting sport, we are currently speaking with the lads at Bolddog and I am sure it is only a short time until we can announce an ACU British Championship"
NEWS, MAY 2011 - Confirmed riders are as follows for FMX Championship:
Pro Riders
Chris Birch (Redbull X-Fighters)
Jamie Squibb
Danny Veale
Dave Wiggins
Samson Eaton
Aran Powley
Dan Whitby
John Pearson
Ryan Pasch
Frazer Swanson
Stuart Macey
Ben Robinson
Amateur Riders
Ash Davies
Josh Grindrod
Stuart Macey
Ben Robinson