News Archive
NEWS ARCHIVE 2009 - 2010
Practice Area Burns to Ground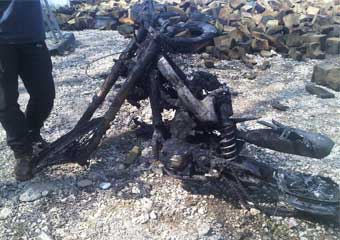 The Foam Pit at Full Blaze A Burnt up Honda CRF250
Up until last week, plans were going so well for the Bolddog Lings FMX Team. With better weather now across the region, it saw the team out regularly practicing and preparing for a busy year of competitions and shows.
Then disaster struck… The team's foam landing practice area went up in flames, taking with it thousands of pounds worth of gymnastic foam and a brand new motorcycle. It was unknown how the fire started, however no one was injured.
The team normally use the large foam landing, shaped into the form of a motorcycle ramp, to practice there jumps including back flips. When the tricks are perfected in the foam, the team then perform their stunts on the solid ground and metal ramps.
The Bolddog Lings Team has been performing at competitions and shows since 1995 and normally performs at around 50 events each year. Last year, the team, all from the local area including Dan Whitby and Samson Eaton from Harleston, all had rostrum finishes at UK National Freestyle motocross competitions.
Dan Whitby, rider and manager's latest trick is the back flip, a trick that has recently taken the World by storm by motorcycle stars such as Travis Pastrana. Dan said "The flip is a trick that we were watching only the world's best perform only 2 years ago, and never thought possible for our team to perform. But then we invested our time and money into the foam training area and before I new it, I was in front of thousands of people performing the trick myself!"
A freestyle motocross trick normally involves a rider throwing himself off the back of a motorcycle whilst 30 ft in the air, it has often been described as gymnastics on a motorcycle.
As well as national events, the team also perform their shows locally. In the past they have been regulars at the Eye Show, and more recently at the Norfolk Show, where they will be again this year in June.
The team are supported by local motorcycle and car dealers Lings, that have backed the team with all their equipment from bikes to generators since the team started over 17 years ago.
The Bolddog Lings Team is made up of local riders in addition to Dan including Samson Eaton from Needham and Arran Powley from Dereham
Ryan Powley joins Bolddog Moto Division.
Arran Powleys little Brother Ryan has been shredding the schoolboy motocross ranks and has now made the jump onto the adult bike. Ryan will be riding a Bolddog Lings DP Services Honda this season competing in the Eastern Centre Championship.
We'll keep you posted on Ryan's race progress and as he tries his hand at freestyle.
Little P onboard his new Lings Honda CRF250.
Ron P's new superflip levers.
Arran Powley and his father have been busy in the workshop constructing some "Jeremy Lusk" style superflip levers. Now Arran has perfected the skill of the backflip he now looks forward to experimenting in the foam pit with his new levers.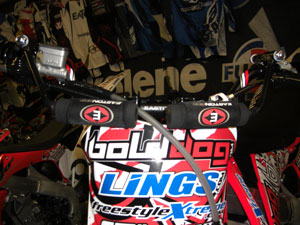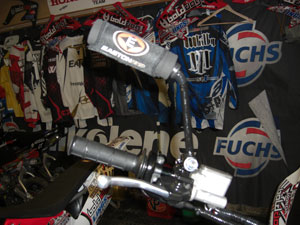 Arran Powley video on youtube.
The latest video feature from the Bolddog Teams very own Arran Powley.
"My Name is Ron......and I like to Party" Check Arran out busting a move on and off the bike!
Dan Counts on the CRF450 to be the way forward.
Bolddog rider Dan Whitby was the first UK FMX rider to make the jump over from the 2 stroke to four stroke machine for freestyle. Dan now faces the new challenge of making the transition from the 250F over to the heavier 450F. We'll keep you posted on Dan's progress.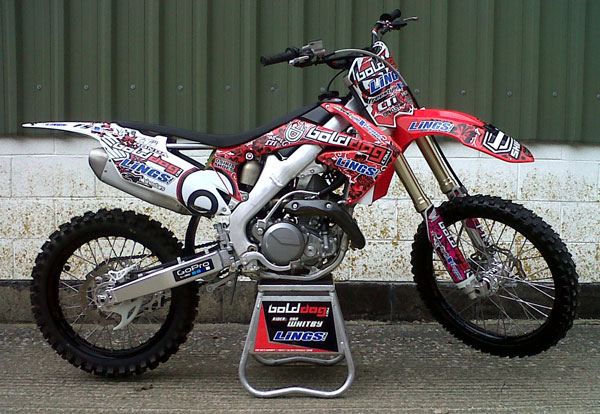 Dan Whitby's Lings Honda CRF450
First Practice session went well!
Arran Powley sucessfully completes his first flip in the Foam Pit.
Heart Throb Hero and super stylie disco dancer Arran Powley successfully completed his first back flip aboard his new 2010 Lings Honda CRF250 yesterday. The cold weather wasn't enough for the youngster so he picked a day where wind and rain would be of plenty! Well done to Arran!
Keep an eye on the news page for Arran's progression with his quest to flip dirt!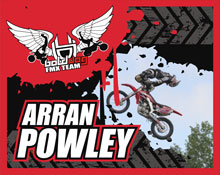 New 2010 LINGS Honda CRF250's with the Bolddog twist.
Here's a couple of pic's of the new 2010 Lings Honda CRF250's all prepared for the Dan and Arran as they ready themselves for the packed 2010 season.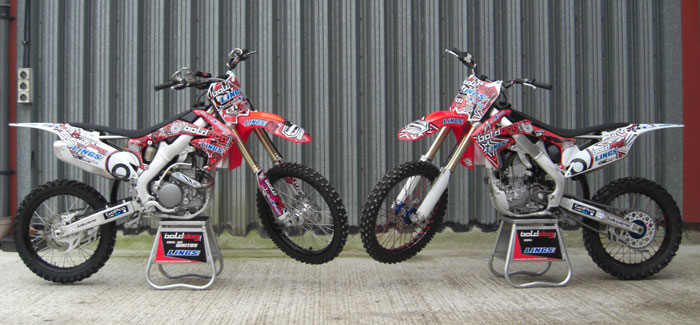 left: Dan Whitby's machine. Right: the machine of Arran Powley.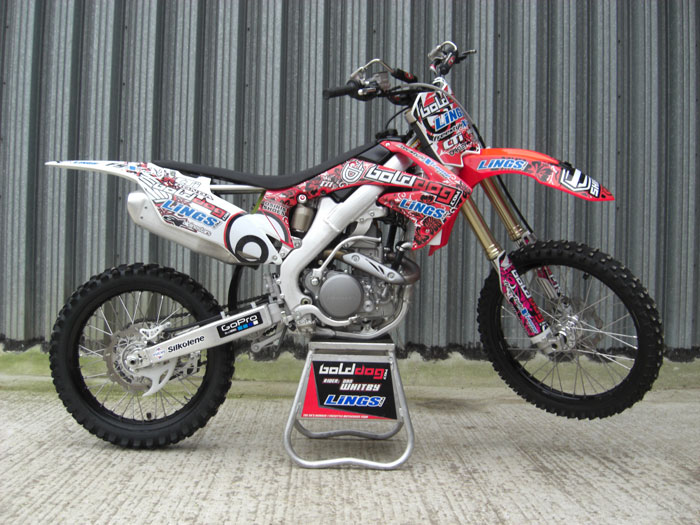 The 2010 Honda's have already impressed Dan, Samson and Arran as they tested the bikes out in the tight arena at the NEC Motorcycle Show at the tail end of 2009.
Local Businessman Lives out his Boxing Dream in Norwich on May 23rd 2010
Thanks to this new sport named White Collar Boxing, local businessmen and everyday workers are getting the chance to leave all their office worries, and settle their disputes with their fists! They are getting the chance to glove up and take it to the boxing ring!
The next boxing show will be on May 23rd at the Holiday Inn, beside Norwich airport and will include successful Norwich businessman, Kirk Moore.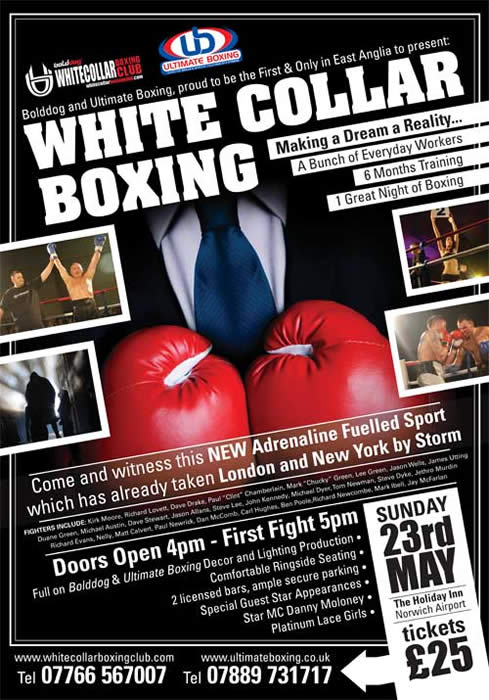 White collar boxing is a new sport that originated in New York then spread to London and is now firmly established in East Anglia by the two established White Collar Boxing Clubs, Bolddog and Ultimate Boxing. The two clubs have been promoting very successful sell out shows at prestigious venues throughout the region over the past year. In the early days of white collar boxing, boxers came from white collar professions, however nowadays boxers are from all warps of life. White collar boxing gives the older person that would not normally qualify for amateur boxing due to age restrictions, the opportunity to box.
Kirk Moore, 44 years old, who lives in Norwich is a successful businessman, and runs his own local company as a building contractor to both commercial and residential properties. Over the past few months, Kirk has already had 2 fights and is currently training at the kickstop gym, with the Bolddog White Collar Club and also at Esporta with the former European Champion, Jon Thaxton.
Kirk said "I have always been a keen boxing fan, back in the days of Nigel Benn and Tysun. White collar boxing has made it possible to go from a spectator to actually take part. It has given me the opportunity to achieve a goal in life that I never thought would be possible!" When asked about his training, he continued, "I was pleasantly surprised when I first entered the boxing gym, I got nothing but encouragement in both the training and sparring, from very experienced boxers that in reality could really hurt me. I did actually think I was fit when I first entered the boxing gym, but I had such a shock, when you get in the ring, the reality is that boxing fitness really is up another level!"
The white collar boxing shows have all the razz mataz of a professional boxing show, full on staged entrance, ring girls, lighting production, and of course a licensed bar. But at the white collar shows there is the added appeal of watching local everyday people slugging it out!
There are however extra safety precautions put into place, such as much heavier and padded 16 oz gloves instead of the 10 oz gloves. Head guards, groin gaurds and gum shields are used as a matter of course, and of course each boxer has to undergo a strict medical by the doctor. Full medical cover is also ringside throughout the whole event.
White collar boxing is not just for those that want to compete, you can also come along to the clubs in both Norwich and Lowestoft just to keep fit with no physical contact. Everyone is welcome, from everyday workers to Bankers and business professionals, the clubs are run in a safe professional controlled environment.
White Collar & Masters Boxing, Saturday March 6th2010
Bolddog & Ultimate Boxing Proudly Presented:
Clash of the Titles, Saturday March 6th, at Waveney Leisure Centre, Lowestoft.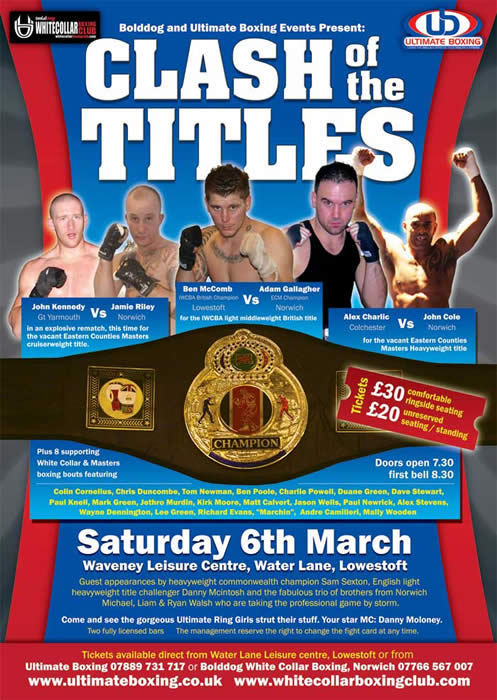 Clash of the Titles was a joint promotion between Bolddog and Lowestoft's Ultimate Boxing Club, at the Waveney sports centre, Lowestoft.
This was a great evening of White Collar and Masters Boxing bouts which included 3 title fights. The headline bout of the evening which attracted big support from both parties was Lowestoft's Ben McComb vs Norwich's Adam Gallagher. The so far undefeated McComb was defending his IWCBA British White Collar title for second time after beating Colchester semi-pro fighter Dan Brennan at the same venue last August. Gallagher was stepping up a level after winning the light middleweight Eastern Counties Masters title and knew this was going to be his hardest fight to date. The pair went absolutely hell for leather for 4 exciting rounds which ebbed and flowed for the duration. The packed house who were in full vocal force were treated to an excellent display of skills and courage.
After the 4 rounds were completed it went to the scorecards and a split decision was announced. McComb's hand was raised and he retained his belt once again.
Other results from the evening are as follows: Colin Cornelius (Norwich) bt Marcin Billicy (Lowestoft) points, Ben Poole (Lowestoft) bt Tom Newman (Norwich) points, Mike Dyer (Lowestoft) bt Mally Wooden (Norwich) 2nd rnd KO, Paul Knell (Lowestoft) drew with Dave Stewart (Norwich), Duane Green (Norwich) bt Charlie Powell (Norwich) points, John Cole (Norwich) bt Alex Charlic (Colchester) 1st rnd KO for the ECM heavyweight title, Kirk Moore (Norwich) bt Matt Calvert (Lowestoft) points, Jethro Murdin (Lowestoft) bt Lee Green (Norwich) points, Jamie Riley (Norwich) bt Richard Barnes (Ipswich) points for the ECM cruiserweight title, Andre Camilleri (Norwich) bt Richard Evans (Lowestoft) points (bout awarded fight of the night).
White Collar & Masters Boxing, Sunday Dec 6th 2009
Bolddog & Ultimate Boxing Proudly Promoted: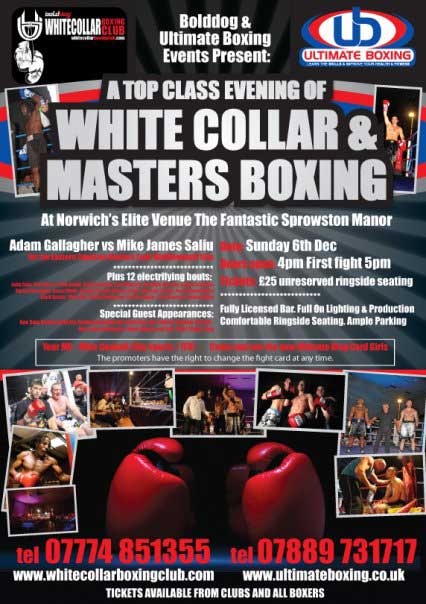 Full Contact Kickboxing Sunday June 28th 2009
Championship Full Contact Kickboxing Show in Norwich -
The Talk Night Club, Oak Street, Norwich
Bolddog, The Black Belt Academy and SESMA Proudly promoted Championship Full Contact Kickboxing in Norwich: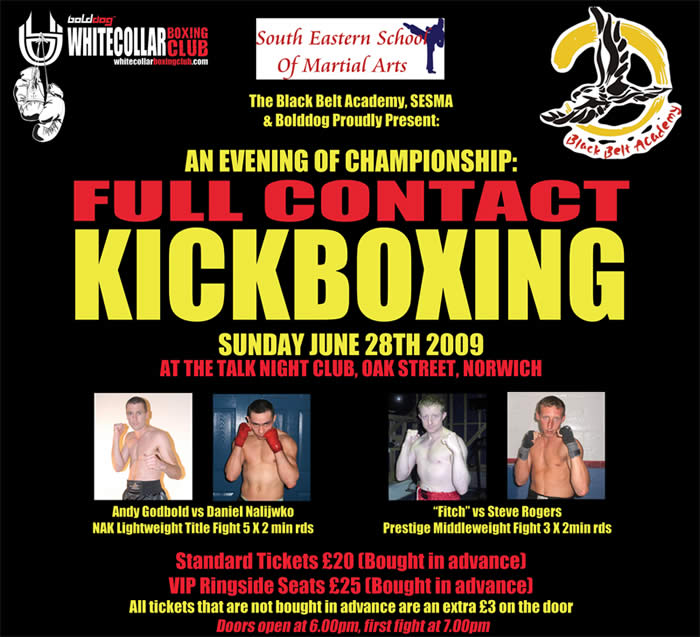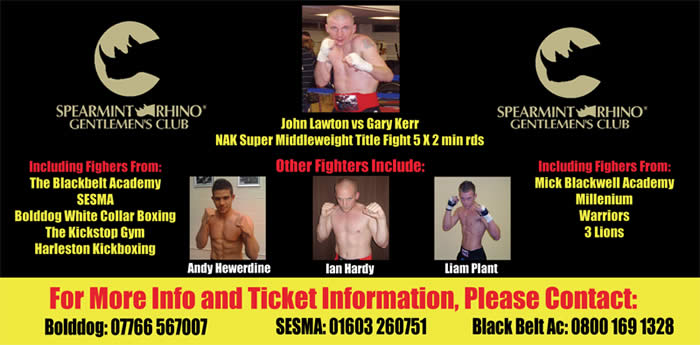 White Collar & Masters Boxing on Saturday April 4th 2009
Bolddog and Ultimate Boxing Proudly Promoted Norfolk's first ever White Collar Boxing Show: